How to make Pici with Pancetta and panforte?
This delicious Tuscan recipe was prepared last week during an online cooking show on Zoom. We should all have been in Siena to attend the showcooking and try the pici in person.
Because travelling is "kind of" difficult right now, I am glad we have the technology to make these events happen anyway and I am honoured to also be able to support my home country from abroad.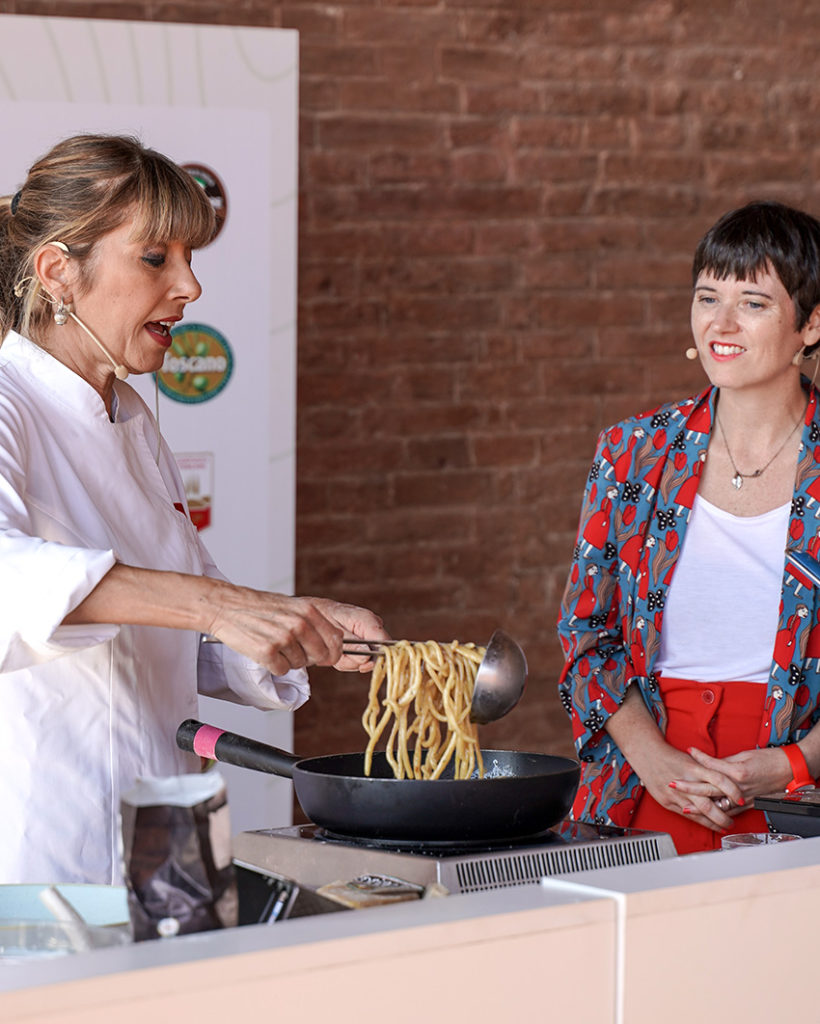 The cooking show took place at the gorgeous Loggia dei Nove in Siena's Palazzo Pubblico in an open-air TV set, where the stars of the show were Tuscany's DOP, IGP and Agriqualità products.
The chef Silvia Baracchi of Cortona's Il Falconiere restaurant, made this pici in front of the camera for us and as soon as I saw them, I knew I needed the recipe and Silvia has been so kind to share it with me.
Of course I'm sharing it with you too!
I am curious, have you ever tried Panforte in a savoury recipe?
This will be a first time for me 🙂
More food recipes here
Tuscan recipe: Pici with Pancetta and panforte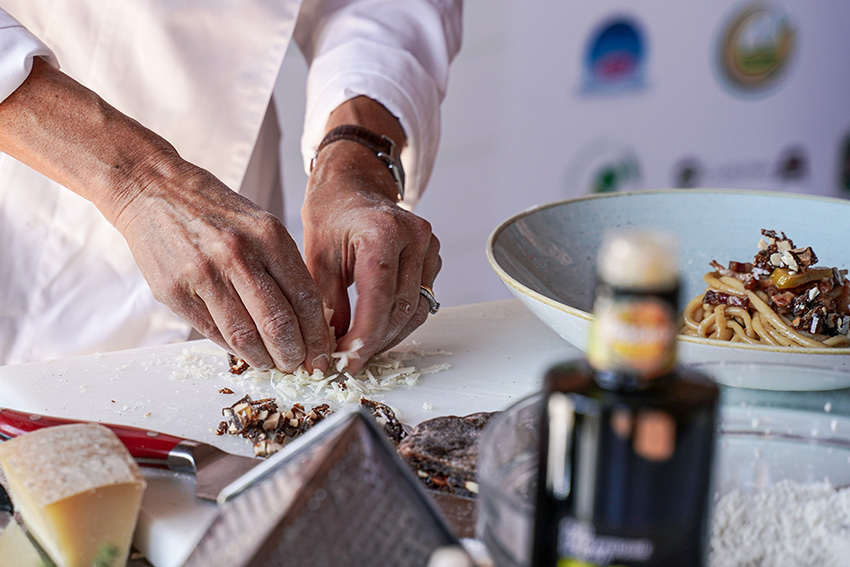 Let's learn how to make Pici with Pancetta and panforte.
Pici is thick, hand-rolled pasta, like fat spaghetti.
It originates in the province of Siena in Tuscany; in the Montalcino area they are also referred to as pinci.
The dough is typically made from flour and water only.
Ingredients for 5 Servings
For the pasta:
All-purpose flour 500g
1 Pinch of salt
2,5 dl water
For the sauce:
1 small chili pepper
1 tablespoon aromatic herbs & thyme
2 cloves garlic (chef used Aglione della Valdichiana)
200g pancetta Cinta Senese DOP
100 g pecorino Toscano DOP
50g panforte nero Siena IGP
extra virgin olive oil "Olio Toscano IGP"
Make the eggless pasta dough
Mound the flour on a board and make a well in the center.
Add salt and water into the well. Slowly mix these into the flour as the dough comes together. Knead for about 10 minutes until the dough is smooth. You are aiming for a soft but not sticky mix, but don't worry if the dough is stiff, as it will relax after resting.
Form the dough into a ball, cover loosely with a plastic wrap and set aside for 20 minutes.
When ready, cut the dough in very thin pieces.
With your hands, roll each piece into a snake about the thickness of a chopstick ( ½ cm in diameter) and up to 60 cm more or less. Continue until all the dough has been rolled.
Don't worry if it breaks, it contributes to the homemade look! 🙂
Make the sauce.
Heat the Extra virgin olive oil over medium-high in a saucepan with chopped garlic and hot pepper, until the garlic is soft but not brown.
Add thyme and then the pancetta cut into slices, and cook for 5 minutes or until crisp.
Bring a large pot of lightly salted water to a boil and drop in the pici.
Boil for about 5 minutes, pici will have risen to the top and then, with a slotted skimmer, transfer them into the pan with the extra virgin olive oil and pancetta.
Toss to coat the pasta.
Add the aromatic herbs and grated Pecorino and pour into a big, warm plate.
Garnish with finely chopped Panforte and pecorino shaves.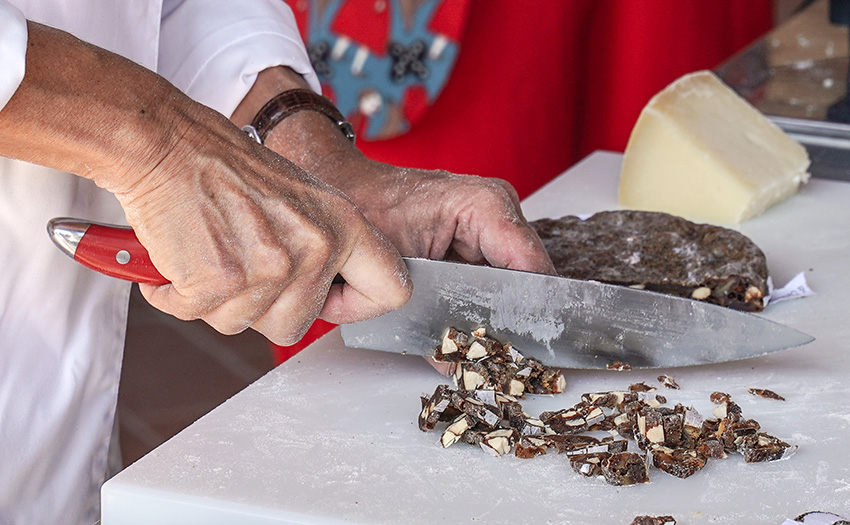 Note: the True Italian Taste project is funded by the Italian Ministry of Foreign Affairs and International Cooperation and promoted by Assocamerestero, with the aim of promoting authentic Italian food&drink products.
This is NOT a sponsored post, I just wanted to share the recipe with you xx
Sonia