Shoreditch is an inner city district in the historic East End of London. One of the more vibrant, alive and colourful parts of the town. Lots of independent boutiques and cafés are there and you will find beautiful graffiti in almost every street, including 2 great pieces from Banksy at the Cargo club on Rivington Street. Below some of my favourites around Brick Lane and Redchurch Street. If you are interested in a graffiti tour, check Groupon or Amazon, there are often good deals on walking tours in the area.
I'd like to share with you some of my "must see" in Shoreditch, let me know if you think I need to add something!
Check here the other London borough guides
Things To Do and See in Shoreditch
Things To do and See in Hyde Park
Things To Do and See in Neal's Yard, Covent Garden
Things To Do and See in Hackney
Things To Do and See in Knightsbridge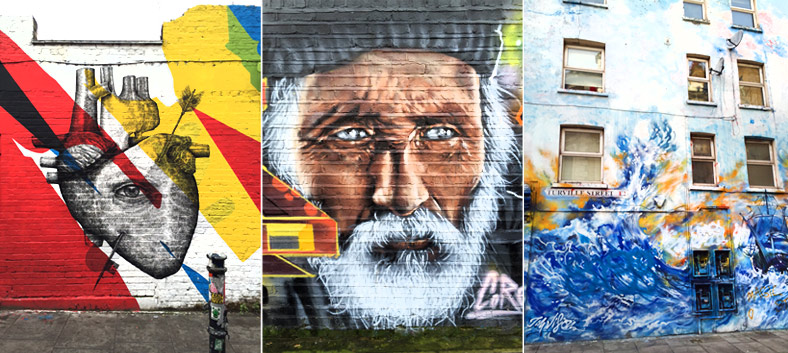 Things To Do and See in Shoreditch – London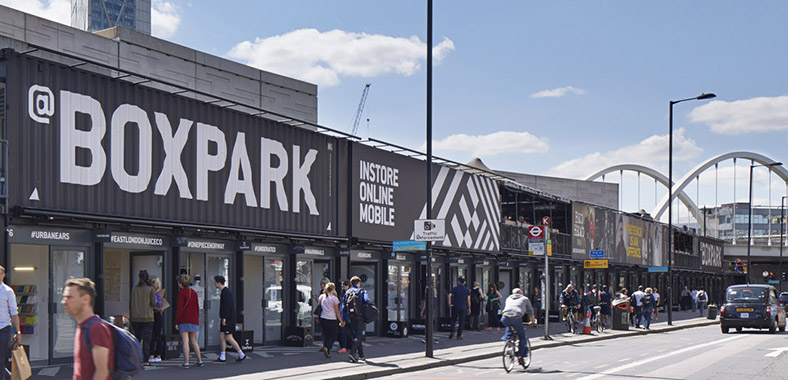 BOXPARK.
Just outside Shoreditch High Street station, BOXPARK is constructed of stripped and refitted shipping containers, filled with a mix of fashion and lifestyle brands, galleries, boutiques, cafés and restaurants. It's a living, fertile community of brands packed with talent, innovation and attitude that puts creativity and fashion back where they belong: on the street. Photo © Boxpark.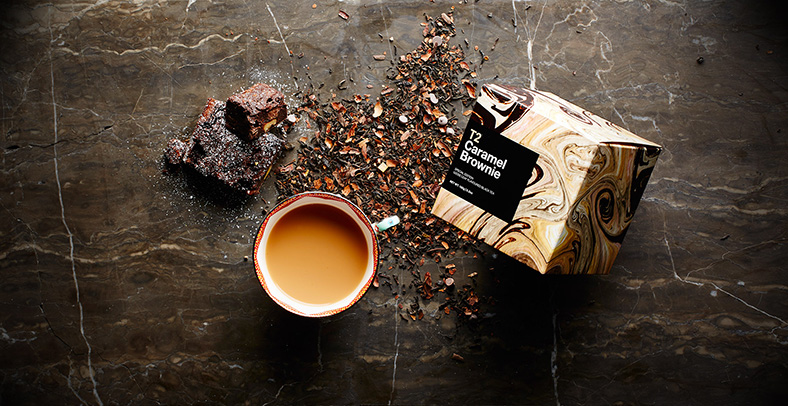 T2
From Australia, T2 arrived in London a few years ago and has been immediately loved by tea devotees. The first store opened in the iconic Redchurch Street, but you will find other stores in Chelsea, Shepherd's Bush and Regent Street.
The brand is beautifully packaged up in an experience that is both unique and immersive; visit one of their stores to be immersed in the Tea experience.
48 Redchurch St, London E2 7DP – Photo © T2.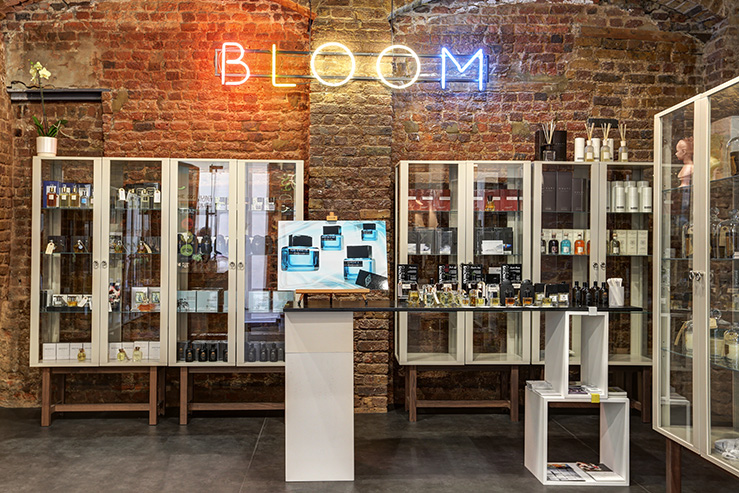 Bloom Perfumery
Shoreditch is a heaven for concept boutiques:  Bloom Perfumery showcases outstanding and luxury perfume talent from around the world. They also have candles, eco-lux bath and body products.
4 Hanbury St, London E1 6QR – Photo © Bloom Perfumery.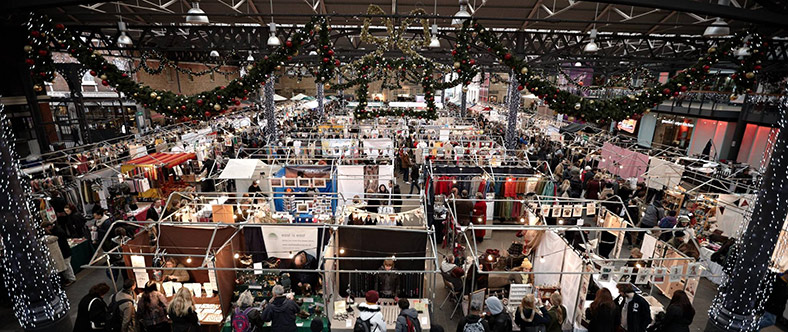 Old Spitalfields Market
A covered market full of antiques and stalls which are selling vintage dresses and handmade jewellery. It  also houses a selection of casual dining restaurants and nice pop-up stores.
Horner Square, Spitalfields, London E1 6EW – Photo © Old Spitalfields Market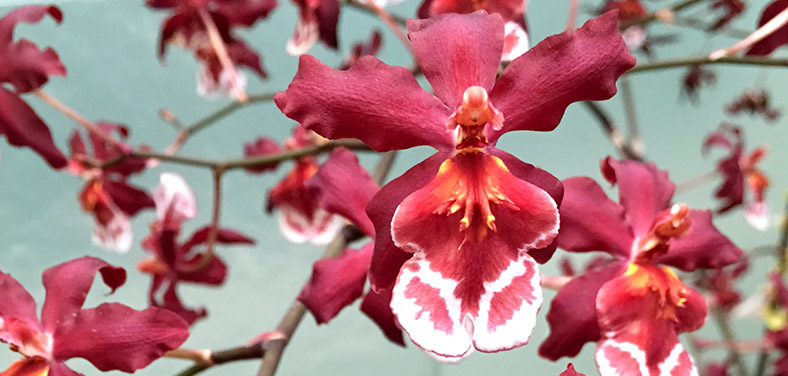 Columbia Road flower market 
This is the best way to spend a Sunday in Shoreditch. Hit the market in the afternoon, when you are likely to get the best prices for your flowers – the chant of the barrow boys is "Everything' a fiver".
If flowers are not your thing, there is plenty of vintage shops and lovely cafes, where you can spend your time.
The flower market and shops are open every Sunday from 8am 'til 3'ish.
Columbia Rd, London E2 7RG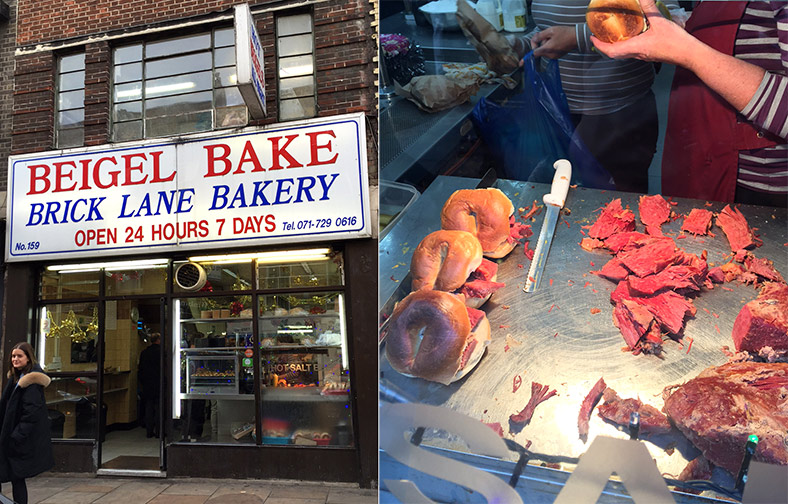 Beigel Bake
An institution in the Shoreditch area opened 24 hours, even on Christmas day!
There is always a line waiting for the bagel with moist salt beef or the classic smoked salmon and cream cheese, or the bagels alone.
A mandatory snack stop for tourists, clubbers and Londoners that costs only 25p for the simple bagel or £1,60 for the salmon and cream cheese version.
159 Brick Ln, London E1 6SB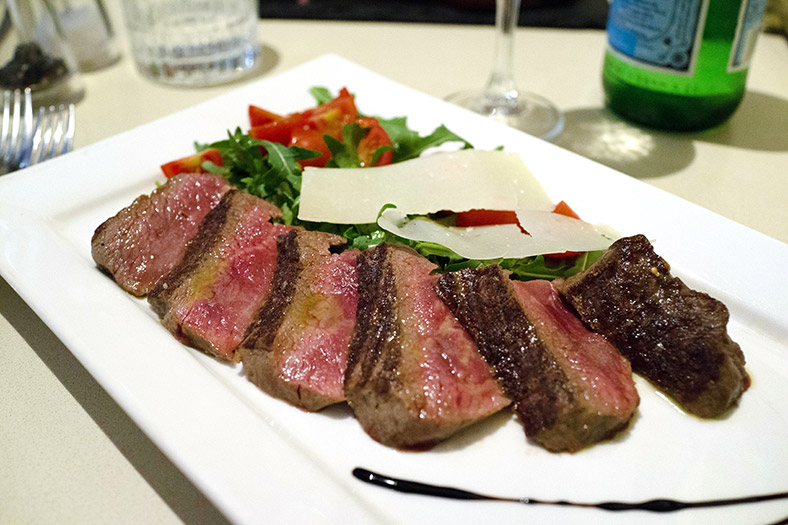 La Tagliata
La Tagliata is an Italian restaurant in Shoreditch, a little gem hidden at number 11 in Sandy's Row.
The restaurant specialises in the traditional Italian sliced steak (photo above), but it also serves a handful of other dishes accompanied by a chosen selection of Italian wines.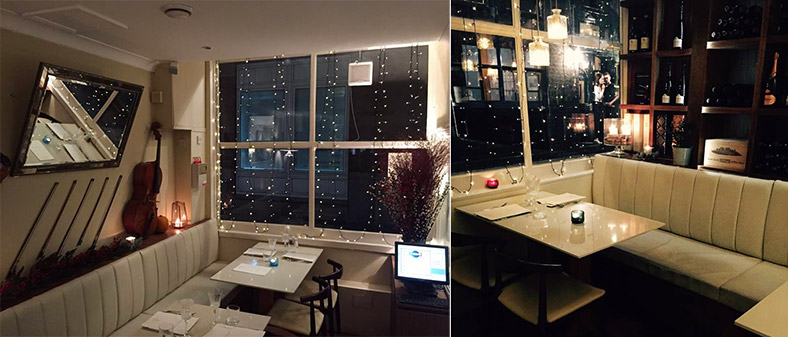 You can enjoy a meal in one of the private dining rooms and feel free to ask the Italian waitress an advice about which Antipasto (starter) you should order, they are all delicious. If I can suggest something, order an Italian charcuterie tray for 2 or the San Daniele ham with buffalo mozzarella, you will not regret it.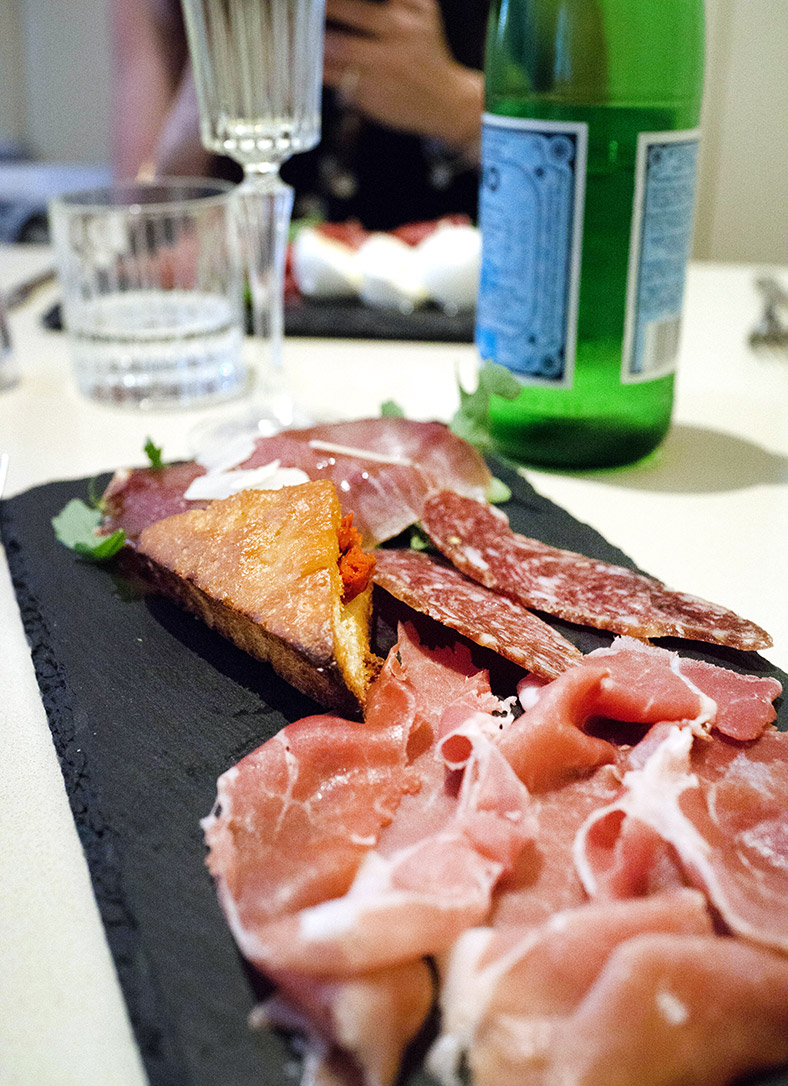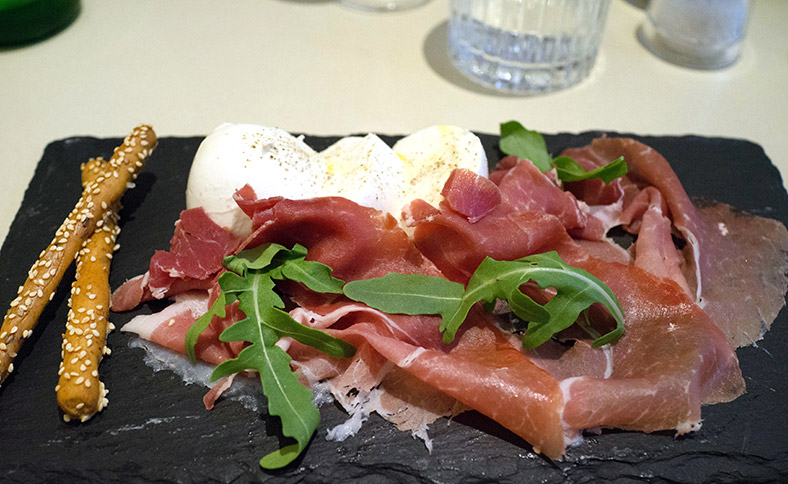 All of the pasta dishes are homemade –except penne – but let's concentrate on the star of the menu: the tagliata.
You can choose between the finest British beef sirloin cooked and sliced on a bed of rocket, cherry tomatoes and Parmesan shaves or the fish option, the marinated grilled tuna, with radicchio and Belgian endive, served with pink pepper and leeks dressing. Chicken or vegetarian options are also available like the Scamorza plate below.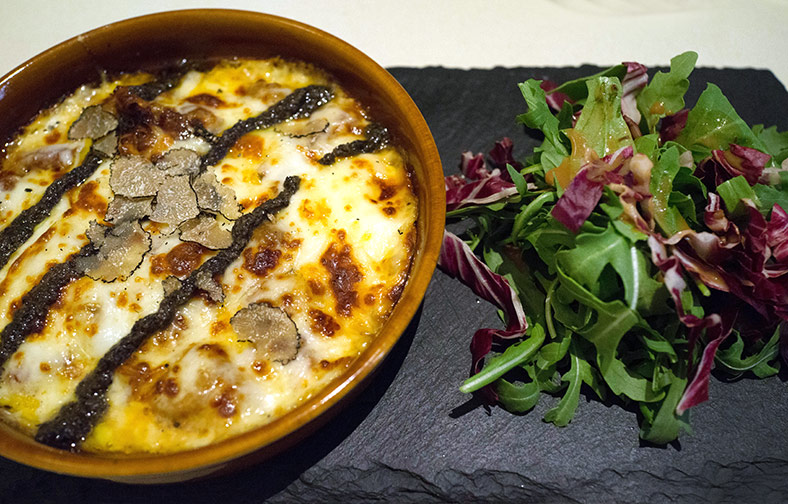 If you still have room for the dessert, they are all home-made and with a tiramisu, you can never go wrong.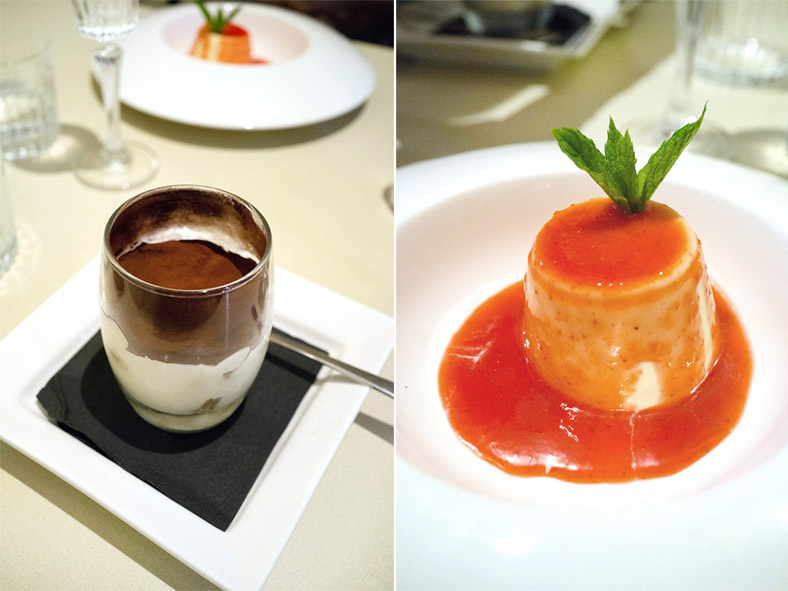 Antonio Tonelli, the executive chef, says 'Nothing is more important to Italians than good food. La Tagliata for me represents home, a place you go back to for good, honest cooking and a convivial family atmosphere'.
I totally agree with Antonio and the family atmosphere is what I enjoyed the most at La Tagliata. Restaurants in London are often very cool, but cold, distant and Italians are looking for a place where you can have good food and a friendly surrounding, like at La Tagliata.
11 Sandy's Row, London E1 7HW
Photo Header © Jorge Royan / http://www.royan.com.ar
Salva