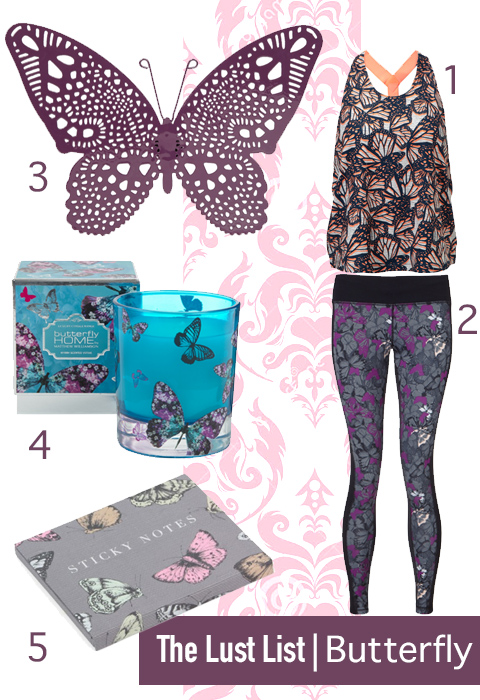 Butterflies are one of my latest obsessions. You know when you see something on a magazine, on TV, on Pinterest and then you become obsessed with it?!
Here are some of my favourites finds.
£65.00
It's not a secret, Sweaty Betty is among the fitness brand I love most. The all-new Spring Summer 15 'Social Butterfly' collection is incredibly beautiful and it pictures butterflies, bees buzzing and dragonflies darting over still water. I am currently lusting for too many items, let me show you a few.
The nature-inspired print of this lightweight dance vest delivers a pretty look with a long racerback segueing into a low open back. The high-stretch fabric has an incredibly soft hand-feel.
£85.00
Those great leggings are perfect for yoga and pilates thanks to 100% opacity, high-stretch fabric and anti-chafe flatlock seams for full reversibility.
3 – Designer medium purple butterfly wall decoration £8.00
4 –  Designer blue myrrh scented candle £16.00
The Butterfly by Matthew Williamson collection is famous for its eclectic and vibrant coloured women's and kids' clothing, as well as decorative home accessories. I was dazed by the vibrant colour scheme home collection and I particularly liked cushions, candles and wall decorations.
£6.00
This pretty box of sticky notes has a butterfly design and a magnetic strip along the bottom edge to hold it shut. Inside it, a complete assortment of 6 different sticky notes, a perfect item to have on an organized desk.
For obvious reasons I couldn't include the following in the Lust List, but I thought it is a nice addition to the article:
From the Hunger Games Trilogy "Catching Fire", we saw Effie Trinket in an exciting Monarch Butterfly McQueen dress