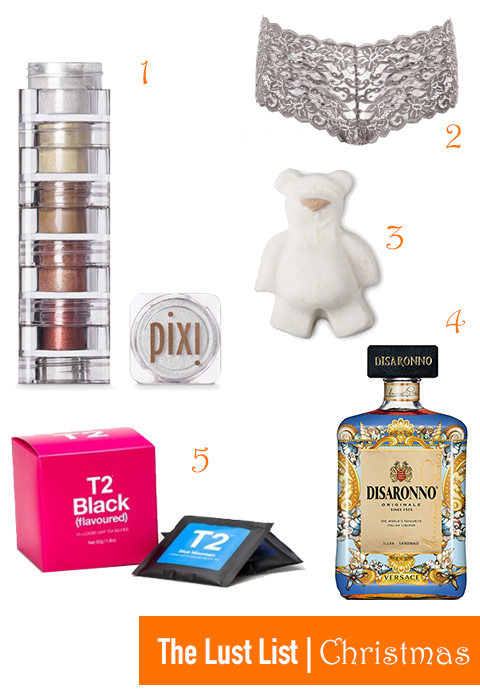 Hello, have you bought all of your Christmas presents? If not, don't worry you are in a good company, here are some ideas from my Christmas wish list with products that I am currently lusting for. Enjoy the shopping. 🙂
1 – Fairy Dust Favourites – a collection of 5 loose pigment powders in wearable shades for a luminous, festive make-up. £18 online or visit the store in the Carnaby Street area .
2- Hanro – From my favourite Swiss lingerie brand a maxi brief with a beautiful all-over floral stretch lace for a stunning feminine fit. Ash, featured in the photo, is my special winter colour.
3 – Lush Butterbear – A sweet-smelling bear that creates a creamy soft bath with a vanilla-like fragrance. £1.95
4 – Disaronno Wears Versace – Have you seen the packaging? For me that's enough to buy it. £18.89 5 –
5 – T2 tea –  I recently fell in love with this tea brand that you can find online but also in Shoreditch and Chelsea. An assortment of loose-leaf teas with a variety of flavoured black teas to suit any mood at teatime. The perfect gift for your Art Director friend. 
Disclaimer: this is not a sponsored post and the products above are chosen according to my preferences. Almost all of the products above have an online shop with worldwide shipping available.