English version only
7 years ago, when we moved to London, we went for our first Afternoon Tea and it's become our British Christmas tradition: every year in December we choose a location for afternoon tea to get into the festive mood.
This year we chose the One Aldwych's Afternoon Tea, which is inspired by Charlie and the Chocolate Factory, one of my favourite movies.
The tea won an award last year as the 'Best Afternoon Tea in London' and is still going on after the festive season, with just a few differences I invite you to discover here.
Where to Have Afternoon Tea in London – One Aldwych's Afternoon Tea
We arrived around 3.30pm, One Aldwych occupies one of the most beautiful Edwardian buildings in London and the Lobby Bar was quite busy with people having Afternoon Teas.
Created by Executive chef Dominic Teague, the One Aldwych's Afternoon Tea included all the below
Seasonal Sandwiches and Savoury
Turkey and cranberry relish on onion bread (this was a festive option)

Free-range egg mayonnaise and watercress on brioche
Smoked salmon on poppy seed bread
Caramelised onion, sage and chesnut quiche
Montgomery cheese scone with bacon jam
After the drinks our waitress brought the savoury plates and before the sweets, she asked if we wished to have more sandwiches. By then, I was already full 🙂
On the Sweet side

Golden egg filled with vanilla cheesecake and mandarin
Chocolate caramel milk
Bubble-gum panna cotta with berries and meringue
Home-made candy floss
Christmas pudding cake pop (this was a festive option)

Cocoa bean financiers
Cinnamon swirl brioche (this was a festive option)

Of course there were also warm, delicious, scones served with berry jam, lemon curd and Devonshire clotted cream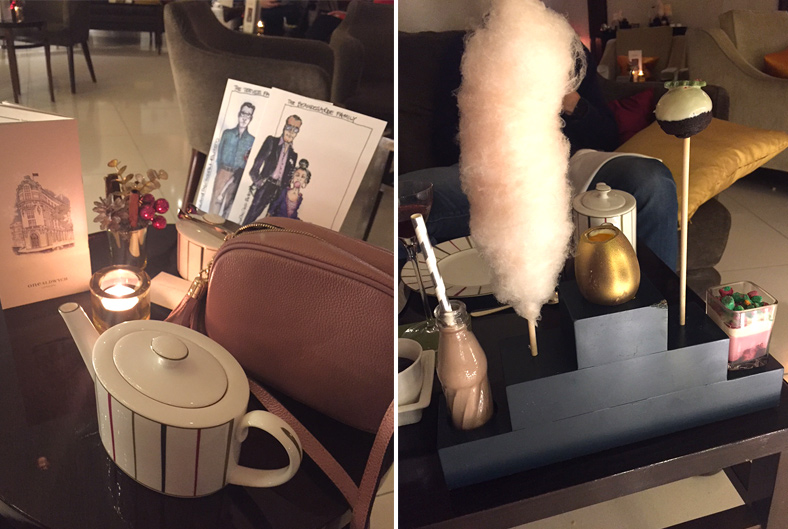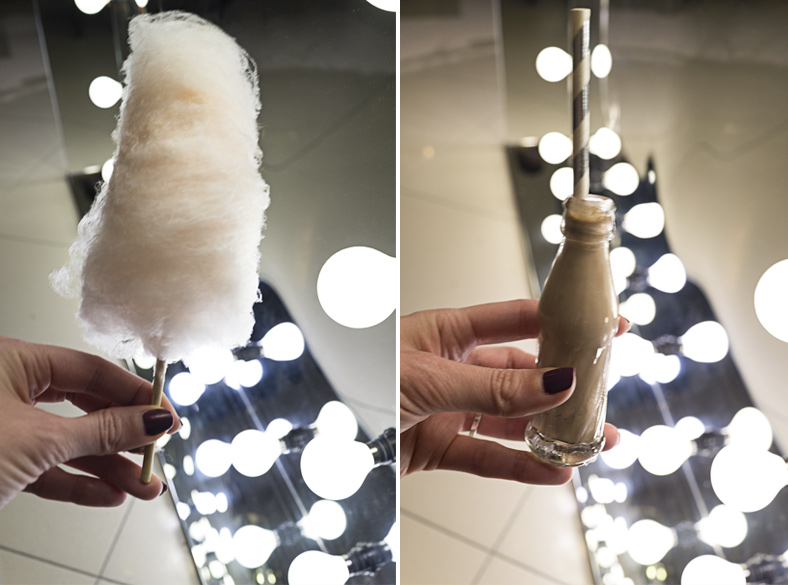 To match the One Aldwych's Afternoon Tea treats we chose drinks from the selection of seasonal loose leaf teas from Canton Tea: a Mango Noir for Giuliano and a Moroccon Mint Green Tea for me.
Plus on the naughty side,  one glass of Lallier Grande Réserve Champagne for me and one Cocktail Charlie, to honour Mr. Wonka, for Giuliano.
The Cocktail Charlie is very spectacular and is made with Dalmore whisky mixed with Grand Marnier Cherry, chocolate bitters, grapefruit juice and cherry syrup. All topped with Champagne.
The whole tea experience reflected the magic of the movie, especially the sweets and the cocktail 🙂
Top treat of the One Aldwych's Afternoon Tea: the scones, financiers and brioche basket was delicious.

Address: 1 Aldwych WC2B 4BZ; onealdwych.com

Cost: Priced £44pp and £56pp with a Cocktail Charlie or glass of Lallier Grande Réserve Champagne.
The wow factor: The presentation of the sweet treats is stunning, but the real wow is Cocktail Charlie, don't miss it!
Disclaimer: we were guests of One Aldwych Hotel, but hopefully you'll trust this post is about an honestly enjoyable afternoon.