I know! I usually post healthy recipes and now posting about bomboloni with cream!
You see, I believe in keeping a balance in my life, work and also, in what I eat.
The majority of my weekly diet consists of well-balanced, healthy food, therefore I have no issues eating something just because it's incredibly satisfying and the taste is good!
Cutting out things I love isn't realistic for me.
⠀
Healthy is what makes you happy and feel good, so don't let someone else tell you what's good for you!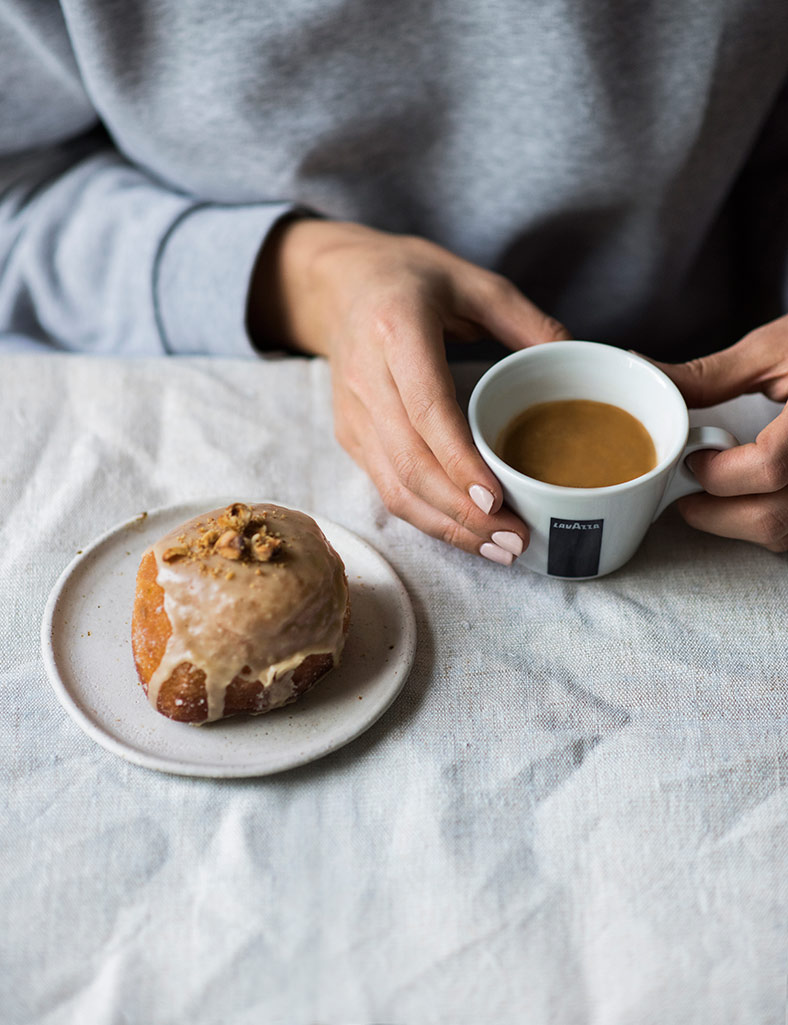 This recipe is a modern take on a traditional Italian sweet "bomboloni filled with cream", I had the pleasure to discover during a recent breakfast with Lavazza and Anna Barnett.
The event was held to discover the brand new, super stylish, A Modo Mio Jolie Plus machine and Anna curated an indulgent coffee-inspired brunch menu for us.
As an Italian, I really appreciated the take on this recipe and I wanted to share it with you, feel free to enjoy a bomboloni with a good quality cappuccino or if you have a Lavazza machine, with a Single Origin Cereja Passita capsule, which has flavoursome notes of honey and chocolate. 🙂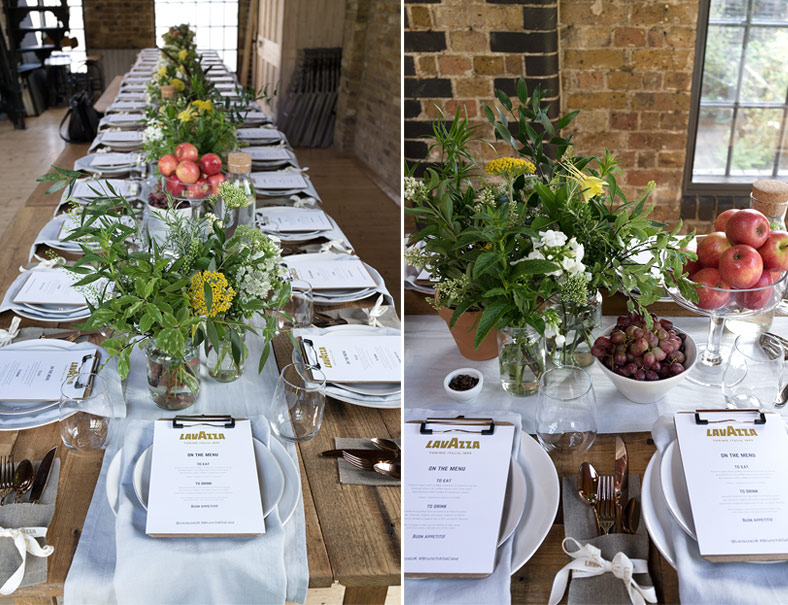 Bomboloni with Coffee & Hazelnut Cream
Bomboloni ingredients (Makes 20 Bomboloni)
250g bread flour
250g plain white flour
75g granulated sugar
1 tsp vanilla extract
zest of 1 orange
7g table salt
100g unsalted butter – room temperature
20g fresh yeast/ 7g dry instant yeast
3 large eggs/150g
2 egg yolks/40g
7g table salt
110ml luke-warm water
granulated sugar for coating
Cream filling ingredients
250ml milk
3 tbsp hazelnut syrup
4tsp of Lavazza's Prontissimo
½ tsp vanilla bean paste
45g granulated sugar
2 large egg yolks
2 sheets of gelatine
15g corn flour
150ml double cream
15g unsalted butter
Note: Prontissimo! is a premium instant coffee which has a higher percentage of micro-ground coffee, adding a rich depth of flavour.
Bomboloni method:
Using a food processor and the dough-hook, combine all ingredients except for one whole egg. Beat on medium speed for 5 minutes then high speed for 5 minutes.
Add the remaining egg. Beat on a medium speed until a smooth elastic dough form. Add more flour if it seems too sticky.
Knead by hand for a couple of minutes, then place the dough in a large, lightly oiled bowl. Cover the bowl with cling film and allow the dough to rise in a warm place for at least 2 hours and until it has roughly tripled in size.
Lightly knead the dough then roll it out to 1.5 cm thickness and cut out rounds. A wine glass does the job.
Transfer all your rounds to baking sheets lined with wax paper, then cover with cling film or a tea towel. Allow the bomboloni to rise for another hour and a half until they triple in size once more.
When ready to fry heat vegetable oil in a large, deep pan to 170-180C
Fry the bomboloni a few at a time, careful not to crowd the pan. Fry them for about 2 minutes on each side until golden brown, then drain off the excess oil and set them on a wire rack to cool.
While still warm pour some granulated sugar in a small bowl and roll the bomboloni around until completely coated.
(You can also bake these at 350F for about 20 minutes instead of frying.)
Cream filling method:
Begin by placing the gelatine sheets in cold water for 10 minutes.
Combine milk, instant coffee, hazelnut syrup and vanilla paste with half the granulated sugar in a saucepan. Bring close to the boil over a medium to low heat.
In a small bowl whisk the remaining sugar, egg yolks and cornflour until mixed.
Pour a small amount of the warmed milk mixture into the bowl with the egg yolks, sugar and cornflour, whisking the whole time. After 30 seconds or so add another splash of the warm milk mixture, again whisking the whole time.
Next pour the egg, sugar and milk mixture back into the pan with the remaining warmed milk, ensuring you stir continuously to avoid any lumps or curdling.
Now place all the combined ingredients back on the heat and allow to boil for around 2 minutes stirring the whole time to avoid lumps forming
Remove from the heat, add in the butter and whisk until dissolved
Next add in the softened sheets of gelatine and again whisk until fully dissolved
Pour the full final mix into a bowl or tray and cover with cling film to avoid a skin forming
Whip double cream until it begins to hold its shape then combine with the cooled pastry cream then return to the fridge to keep shape
Pipe into bomboloni shortly before serving
Disclaimer: I was a guest at the Lavazza breakfast but this article is NOT sponsored. Opinions are my own.
Salva