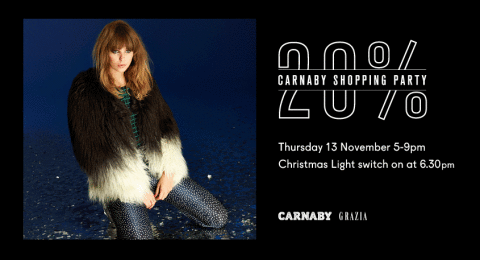 I spent last weekend looking for nice presents to bring to Italy with me. With Christmas just around the corner, only 6 weekends away, I think we all need some ideas.
Here is one: this coming Thursday 13th November, one of my favourite street in London will host a fantastic event, the Carnaby Christmas Shopping Party, where you will find live music with over 50 DJs, complimentary drinks, trend talks from Grazia and also 20% off in over 100 shops, Bars & Restaurants across the 13 streets of Carnaby including my favourites Brandy Melville, Benefit Cosmetics and The Kooples.
I always go with friends and we've never been disappointed, come and join us! 🙂
Get your ticket here. 
Carnaby Christmas Shopping Party
Thursday 13 November 2014 5pm -9pm
The photo below is from last Christmas in Carnaby.