Did you know that Norway changed sushi forever?
In 1970s Japan was entirely self-sufficient in terms of seafood and tuna and sea bream were the only fish designated for sushi.
In 1974, a delegation of Norwegian MPs travelled to Japan and they immediately noticed how tuna was regarded as the very best fish, while poor quality salmon was being sold in large numbers at low prices.
It's not that Salmon wasn't being eaten; it was seen as a low quality fish and was never served raw. It took nearly fifteen years to get Norwegian raw salmon exported to Japan and another 10 years for the exceptional qualities of the fish to become appreciated. Salmon-based sushi started appearing in restaurants alongside tuna and bream.
Situated in the heart of Mayfair, Sake no Hana offers authentic modern Japanese  dishes. The Head chef has developed a deep understanding of the traditional multi-course Japanese
kaiseki cuisine
, which is now the star attraction at Sake no Hana.
Here is the menu we tasted during the dinner. Every dish was paired with fine Sakes.
From the left
Salmon Tataki Oroshi Daikon paired with Konishi Gold
Aburi Salmon Yuba Salad paired with Tatenokawa 50
Salmon Usuzukuri with Black pepper and truffle ponzu paired with Konishi Gold
Konishi Gold is the recommended Sake for home use, as it's highly drinkable and never fights with food. Also, £28 is a fair price for a good bottle of sake.
Salmon Sashimi and Salmon Crab Maki paired with Tatenokawa 50
Do you know that Sashimi is the lowest-calorie sushi you can order?
Only 33 calories with 1g fat per piece. The reason is simple, because it's served without rice, these thin slices of raw fish contains fewer calories than sushi rolls.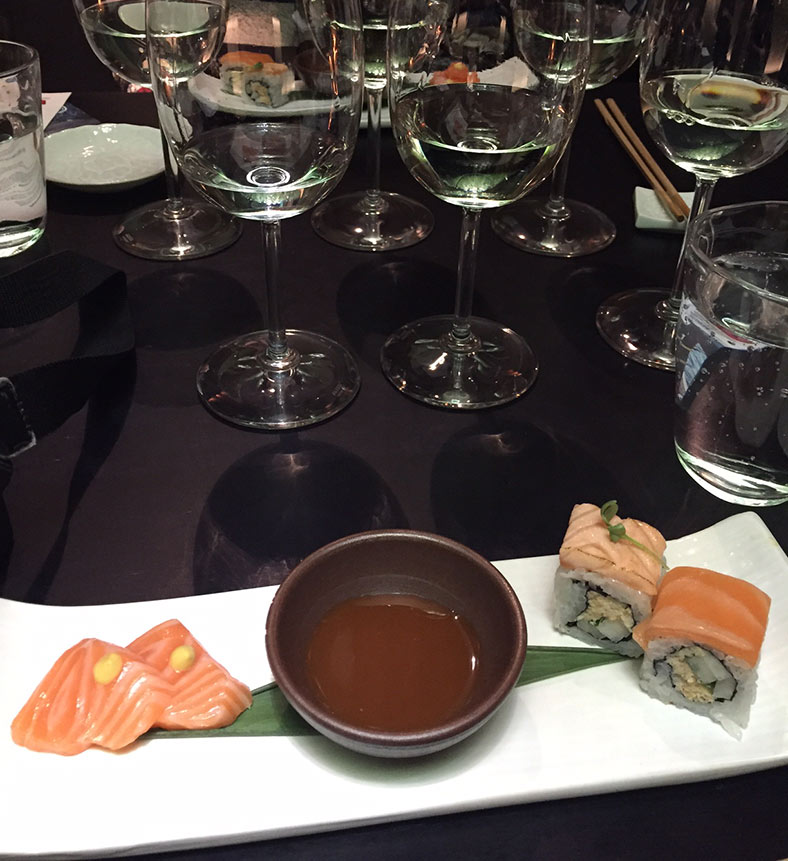 Aburi and fresh salmon nigiri paired with Gozenshu 9 Mountain Stream
Aburi style refers to nigiri sushi where the fish is partially grilled and partially raw.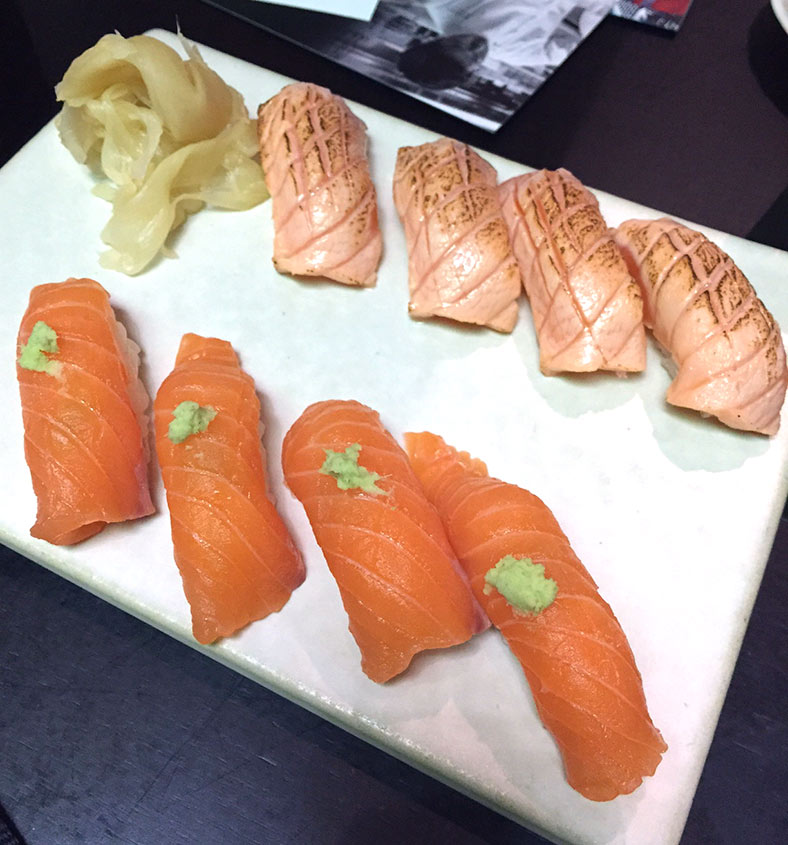 Salmon Sakurayaki paired with Gozenshu 9 Mountain Stream.
This dish is simply stunning (and delicious).
It has been marinated for 3 nights with miso and sake and is wrapped in a cherry leaf. The little branches are soba noodles with nori wrapped at the end!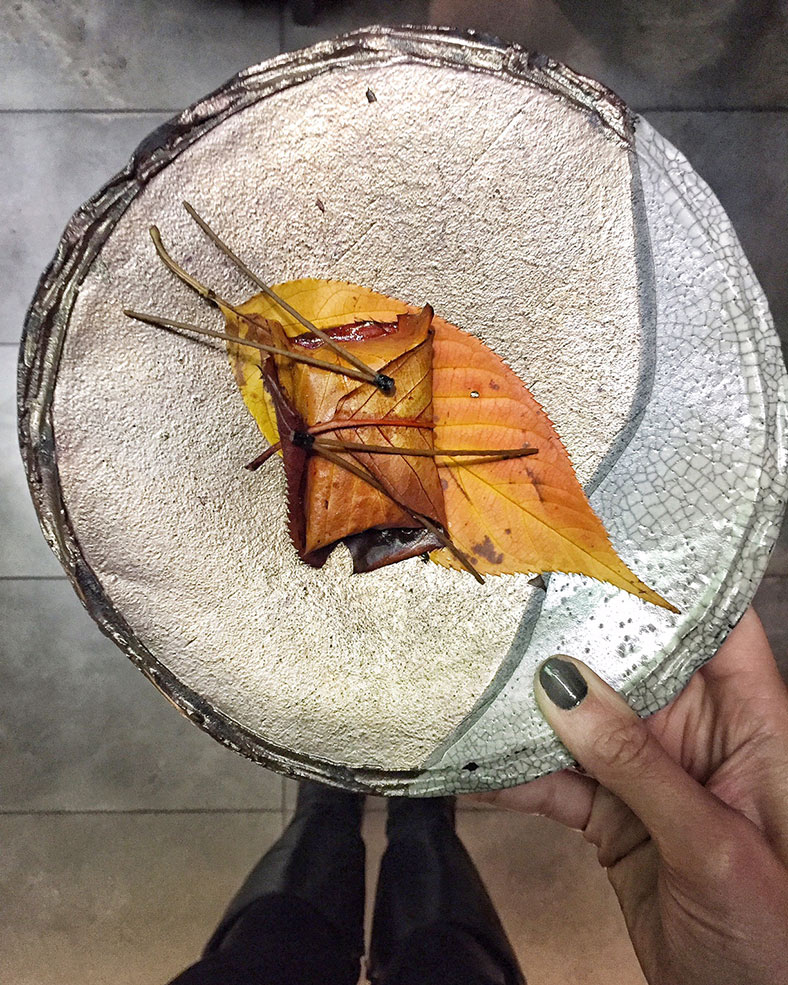 To end up the dinner we had this mouth-watering Japanese matcha panna cotta with fresh mango.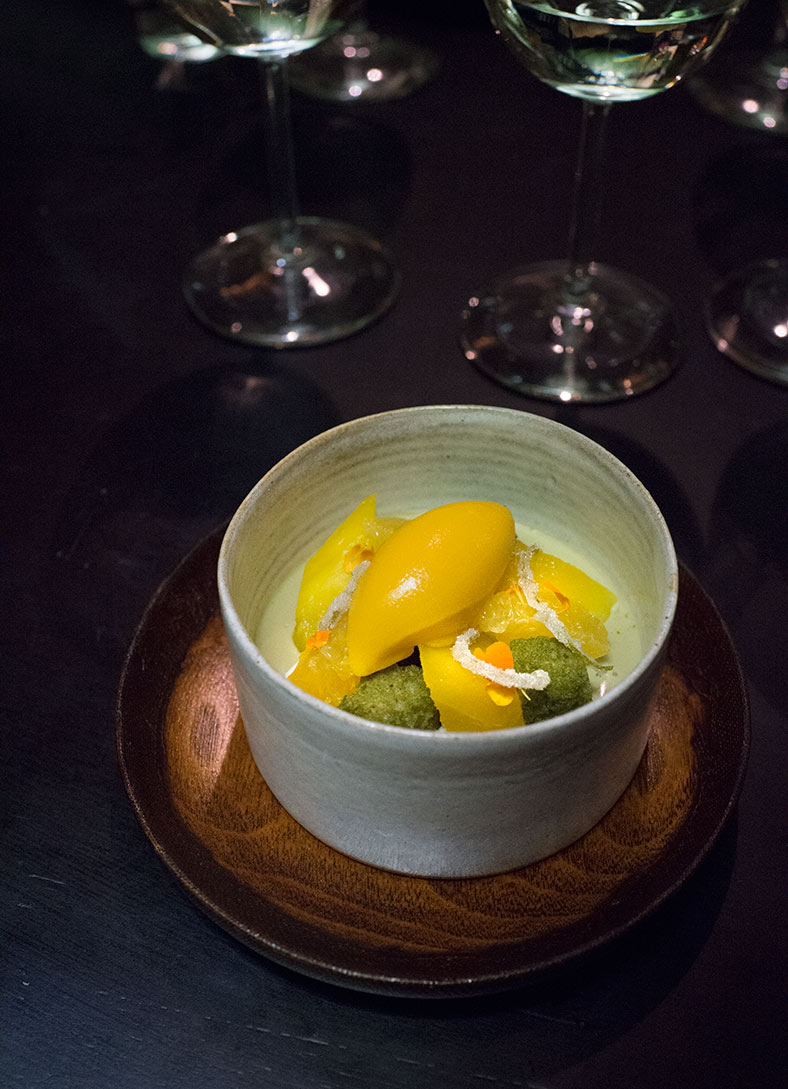 If you want to try and prepare salmon sushi dish yourself, here is the Spicy salmon uramaki recipe from Chef Hideki Hiwatashi, let me know how it goes. 🙂
Salva
Salva
Salva
Salva
Salva
Salva
Salva
Salva
Salva
Salva
Salva
Salva
Salva
Salva
Salva
Salva