English Version only.
As mentioned in Monday's article, here is the dessert that has followed the Jerusalem artichoke recipe, as you can see coffee was the main theme.
These miniature iced coffee soufflés are a light mousse finished with a hand piped chocolate feather. Recipe by Le Cordon Bleu Master Pastry Chef Nicolas Houchet.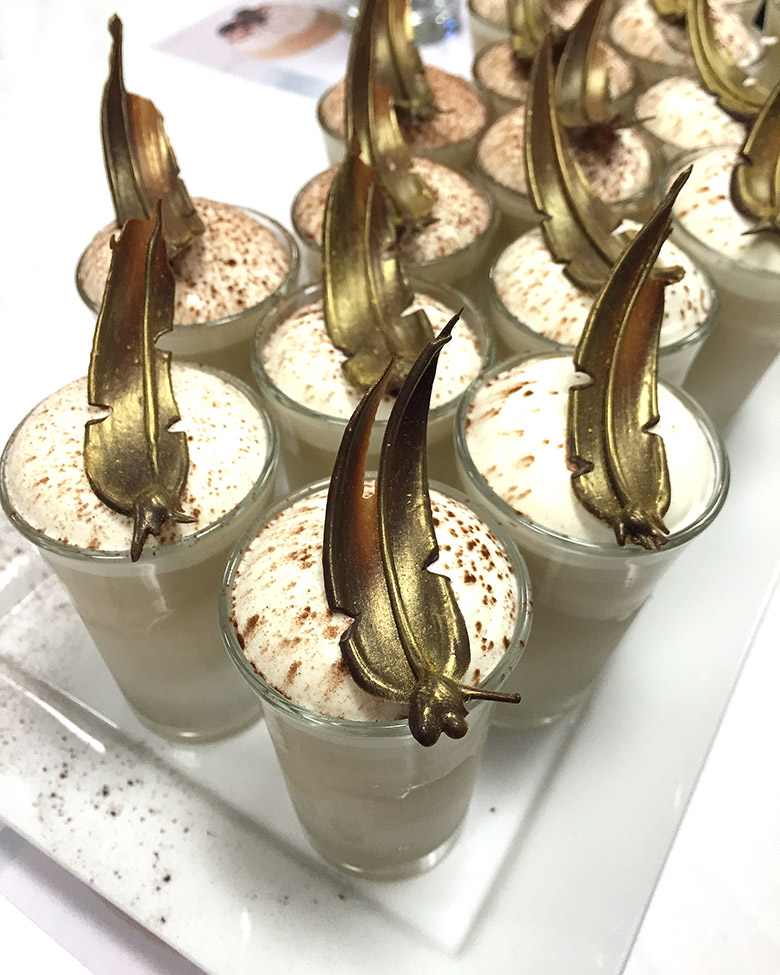 Cooking time: 30 minutes plus 2 hours freezing time
Serves: 6
Coffee-flavoured sabayon
6 egg yolks
100g sugar
80ml water
20g Lavazza Kafa Forest Ground Coffee
3 gelatine leaves (6g), soaked in cold water and squeezed to remove excess water just before adding
450ml whipping cream
Italian meringue
100g sugar
40ml water
3 egg whites
Garnish
150ml whipping cream, whipped
18 chocolate-covered beans (chocolate feathers has been used in the photo)
Unsweetened cocoa powder
Equipment
Cafetiere
6 x 125ml ramekins
Method
Wrap 6 ramekins with a double layer of baking paper and secure with tape or string
To make the sabayon, beat the whipping cream until it forms soft peaks and reserve in the fridge. Heat the water to 95 degrees Celsius and infuse the coffee in a small cafetiere for 10 minutes, then strain into a mug or bowl and set aside
Combine the eggs and sugar in a bowl and whisk until pale and thick. Add the coffee and place over a bain marie, whisk until thick and creamy. Add the gelatine and whisk again until cool
For the Italian meringue, heat together the sugar and water in a saucepan until it reaches 118 degrees Celsius. Meanwhile, whisk the egg whites in a very clean, dry bowl until they start to form soft peaks. Gradually pour the cooked sugar syrup onto the eggs whites, whisking continuously until the meringue is cool, smooth and glossy
Gently mix the Italian meringue with the sabayon and fold through the whipped cream. Divide evenly between the ramekins and smooth the tops. Transfer to the freezer and leave to set for at least 2 hours
To serve, remove the paper collar from each ramekin, dust with cocoa powder and garnish with chocolate coffee beans. Serve with whipped cream.