Finally, the post that you were waiting for.
I didn't want to rush with suggestions before having lived the city a bit, explored the neighborhoods and asked the locals what's cool to do.
Now, I feel ready to give you a few (hopefully 🙂 ) good tips…
First, San Francisco is THE city for foodies, from Michelin Starts restaurants to food trucks, market stalls to bakeries, you can surely find a place that will tickle your appetite.
Note: I will split the post in two parts, as I have too much to mention in only one article. The Italian translation will follow shortly, I promise! 
Bakery
This place has made everyone in San Francisco mad about Cruffins. What's that, you might ask? A Cruffin is a hybrid of a croissant and a muffin. The pastry is made by baking laminated dough into a muffin form and the filling is piped in. Mr. Holmes opened only 8 months ago and instantly became very popular. Cruffins come out at 9am every day, but on weekdays people start queuing outside from as early as 7am. In a couple of hours the beloved pastries, Mr. Holmes bake about 150-200 every day, are usually sold out.
I tried the banana and peanut butter filling – one word: DELICIOUS – and Bridget, the store manager told me that mocha and pistachio flavours are also very popular. Speaking about flavours, they change every day. I heard the new fall menu will be presented on the 24th September at the Intelligentsia Roasting Facility. If you happen to be in town you should visit and "restore your faith in carbs". 🙂
My note: as it is is very rich and big, bring a good friend with you to share the joy of a Cruffin. 🙂
Mr. Holmes Bakehouse – 1042 LARKIN STREET 
Sweets
Choux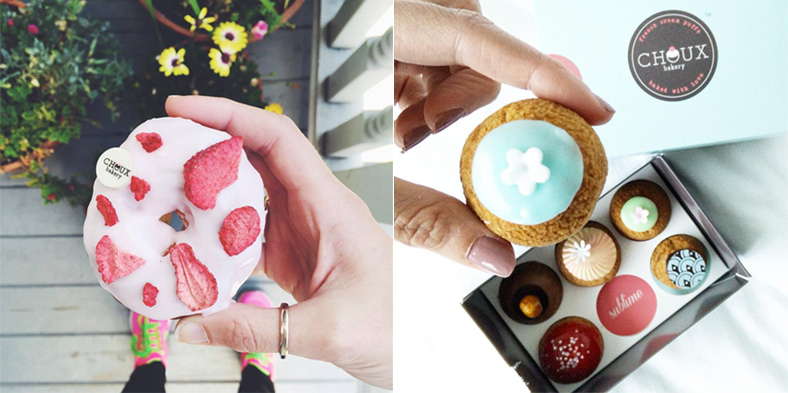 Technically another bakery, Choux sells the authentic French cream puffs which are a real treat, I bought them for Giuliano's birthday and I went back again and again to buy some more. 🙂
Every flavour is great, but if I had to choose I would go for the passion fruit curd and white chocolate. If you don't think one is enough and want something bigger you can also try the chouxnut.
Choux – 248 Fillmore St.
Pizza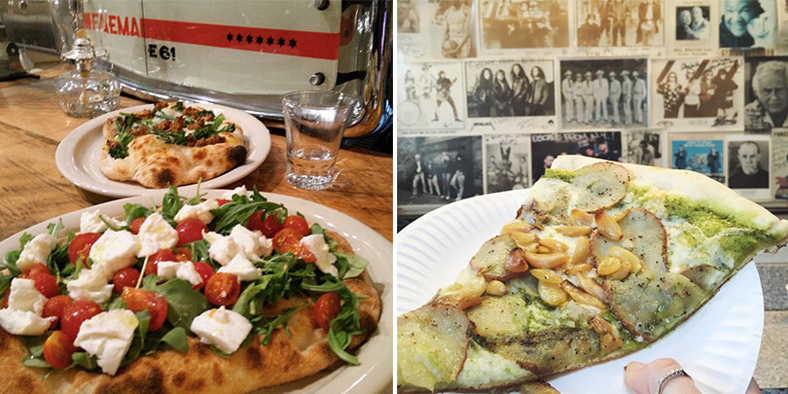 Montesacro (on the left)
I love these guys.
The things that blew me away:
The "Pinsa", a bit like an oval shaped Neapolitan-style pizza. The dough is just perfect: it's flavourful, has got a slight sourdough taste, with a thick border and just the right amount of chewy.
The ingredients. We had a "Maranella" with burrata, broccolini, spicy pork sausage and a "Collatina" with buffalo mozzarella, cherry tomatoes and rucola. Everything was so fresh and authentic.
The location. The place used to be a bakery some 100 years ago. You can dine next to the original ovens, dreaming of all the loaves of bread they must have produced in their time. Montesacro continues their legacy, bridging SF with Italy, carrying on the art of baking.
 Montesacro – 510 Stevenson St.
Escape From New York Pizza (on the right)
I know, it's not my usual kind of pizza. 🙂
However, if you are around Haight St., go inside, grab a slice and head to the Golden Gate Park. Definitely not the common decor for a pizzeria, but it's just perfect for the street, with lots of autographed pictures from bands (and Matt Groening 🙂 ) on the wall! Much recommended the "you say potato" slice! A slice is enough for 1 person and it will make for a nice and cheap lunch.
Escape From New York Pizza – 1737 Haight St.
Coffee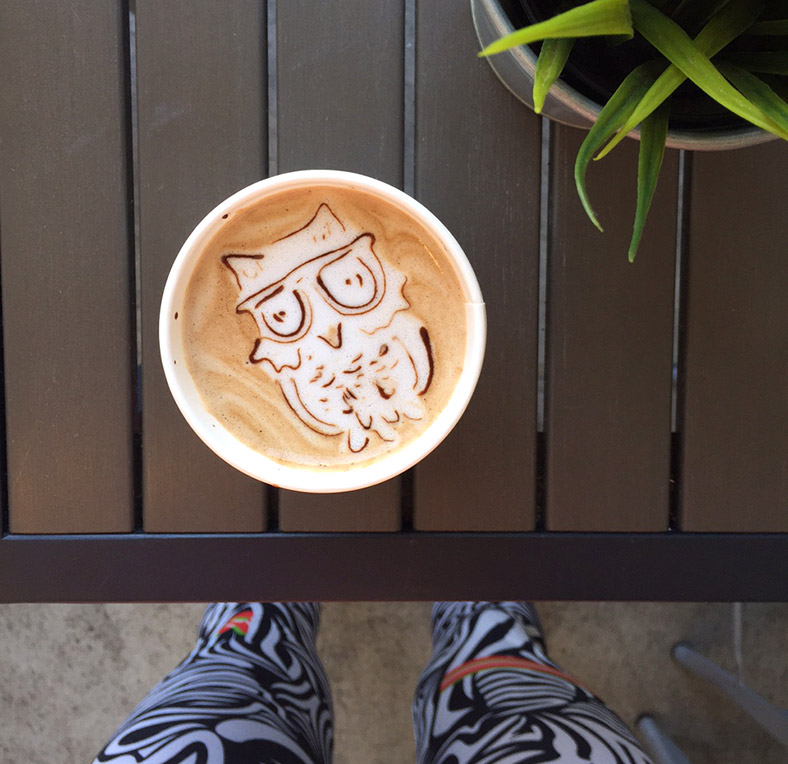 Elite Audio Coffee Bar
San Francisco is very into coffee, you will find so many small independent coffee shops making it hard to pick just one.
Just to name a few: Epicenter Cafe, Sightglass Coffee, Blue Bottle Coffee but I want to name a special one, the Elite Audio Coffee Bar – with an audio store on the back.
Not only the coffee is great, but you can have your unique piece of latte-art. Melannie Aquino, the barista, also makes beautiful latte art. Order a mocha, the art shows up better, and challenge her on your desired drawing. Check out on Instagram: Mellanie drew anything from the Minions, Totoro, Snoopy, even though she says she prefers simple animals.
I know is important when you travel so… yes, free wi-fi is available. 🙂
893A Folsom St.
I have been to San Francisco for a couple of months, when I was living in California.