Following the plum tomato tart recipe I published last week, here is another one from  Le Cordon Bleu to celebrate the #BritishTomatoWeek.
The ingredients used in this bread are emblematic of the summer season. The perfectly ripe sweet tomatoes and delicious rosemary, caramelised red onion and roasted garlic provide deep and rich flavour.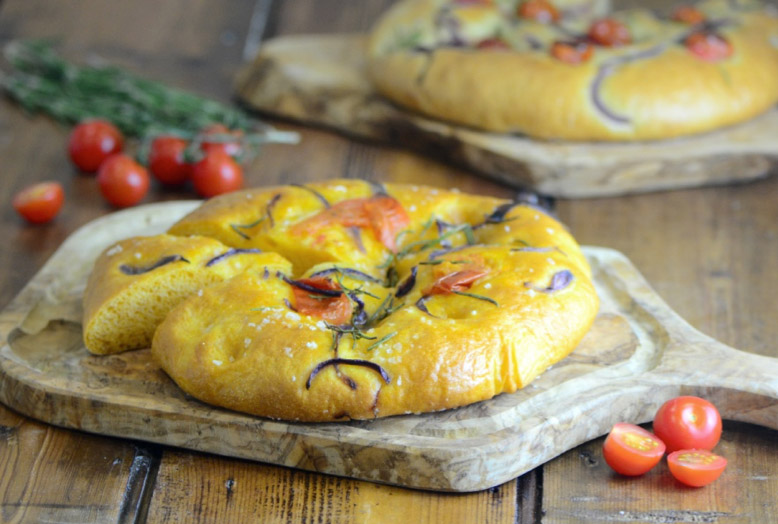 Ingredients – Dough
12 g fresh yeast
135 g warm water
500 g strong flour
10 g salt
150 g tomato juice
30 g garlic oil
35 g roasted garlic
60 g caramelised red onion
Ingredients – Topping
½ bunch rosemary
100 g caramelised red onion
150 g cherry tomatoes (part dried)
rock salt
garlic oil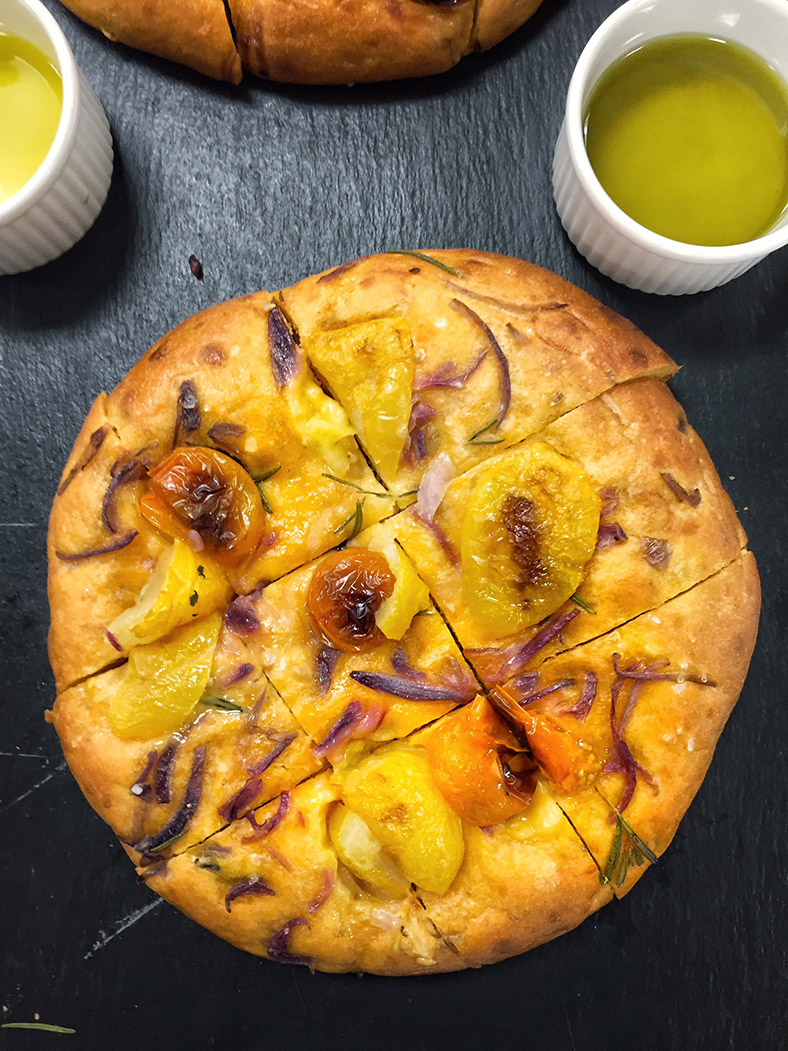 Method    
Dissolve the yeast in warm water.
Put the flour and salt into a large bowl. Add the tomato juice, garlic oil and yeast dissolved in water.
Mix for 1 to 2 minutes at a low speed (1 on kitchen aid), then mix for 7 to 9 minutes at medium speed (4 to 5 on kitchen aid).
When the dough is ready add the roasted garlic and caramelised red onion and mix until well combined.
Leave to rest for between 15 to 20 minutes.
Knock back and leave to rest for another 15 minutes.
Divide into 2 pieces and roughly shape into rounds.
Leave to rest for a further 10 minutes.
Roll into a flat round shape, around 20 cm in diameter.
Leave to prove until a third thicker.
Add the toppings by pushing slightly into the dough.
Prove again until it has doubled in size.
Bake in a fan oven with steam at 190ºC for 10 minutes. Remove from oven, brush garlic oil on top and finish baking until golden brown on top.