English and Italian version together
Not very often I look at my childhood photos. But last weekend, it was Easter and I was at home in Italy, I took out the boxes where they're kept and selected a few pictures from when I was three years old to today.
Zalando turns 3 this month and to celebrate its birthday has invited bloggers to share how their style has evolved since the age of 3.
I thought that would be fun, so I sat down with a cup of tea and took a trip down memory lane!
Note: in the first series of pictures I'm not 3 yet, but it's important to understand the title of this post.
Non mi capita spesso guardo le mie foto di quando ero bambina, ma lo scorso weekend a casa in Italia per il weekend di Pasqua, mi sono seduta, ho aperto le scatole delle foto e con calma ho selezionato alcune delle mie foto dai 3 anni ad oggi… il tutto tra risate e momenti di commozione.

Zalando compie 3 anni questo mese e per festeggiare il suo compleanno ha invitato i blogger a raccontare di come il loro stile si è evoluto dall'età di 3 anni.
Ho pensato che sarebbe essere divertente, così mi sono seduto con una tazza di tè e ho sfogliata la strada dei ricordi.
Note: nella foto di apertura non ho ancora 3 anni, ma è importante per capire il titolo del post.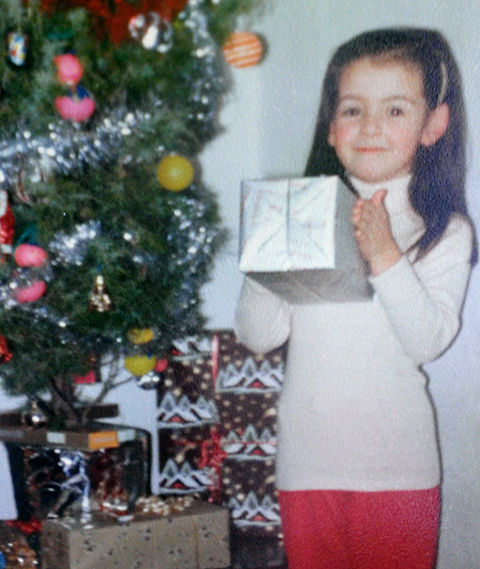 Sonia – 4 years old with red trousers
Christmas day – Happy because I thought that the biggest box was for Barbie's House… slightly disappointed later, when I discovered it contained a food processor for my mommy 🙂
Sonia – 4 anni con pantaloni rossi
Giorno di Natale – Felice perché pensavo che nel regalo più grande c'era la Casa di Barbie… era un robot da cucina per la mia mamma 🙂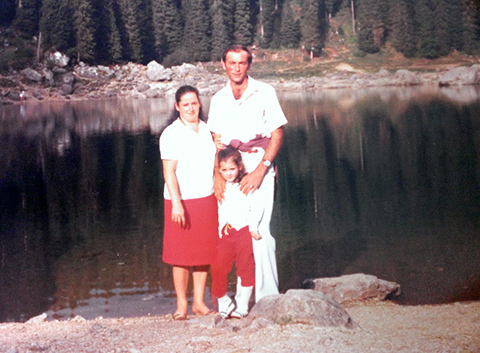 Sonia – 5 years old in Trentino Alto Adige with parents (and red trousers)
Sonia – 5 anni in Trentino Alto Adige con i miei genitori (e Capri rossi)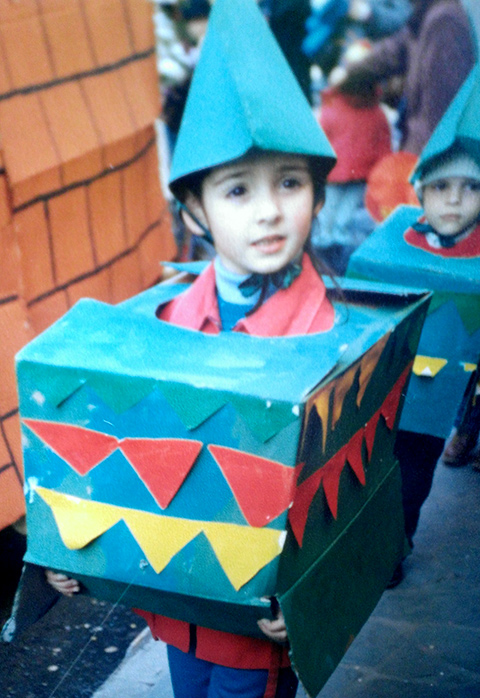 Sonia – 7 years old on Carnival day (with a red cape)
Dragon's Costume… judging from my expression I'm not sure I was enjoying the school's carnival parade
Sonia – 7 anni il giorno di Carnevale (con un mantello rosso)
Costume del drago… dalla mia espressione non sono certa che mi sia piaciuta la parata di Carnevale della scuola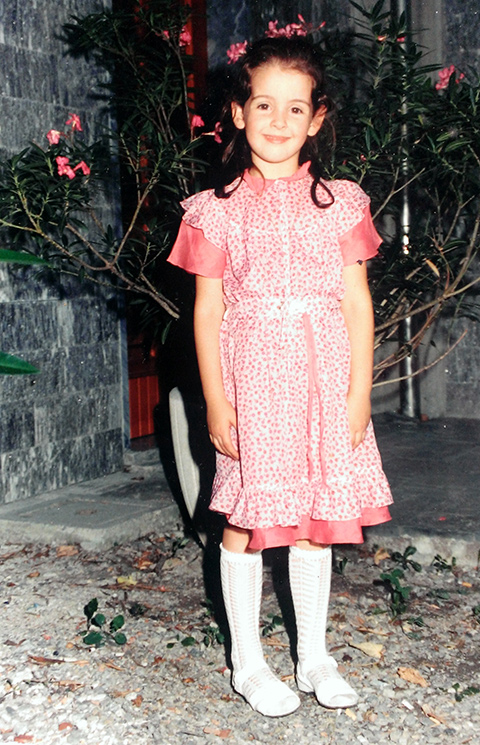 Sonia – 8 years old at my aunt's Wedding day
Sonia – 8 anni al giorno del matrimonio di mia zia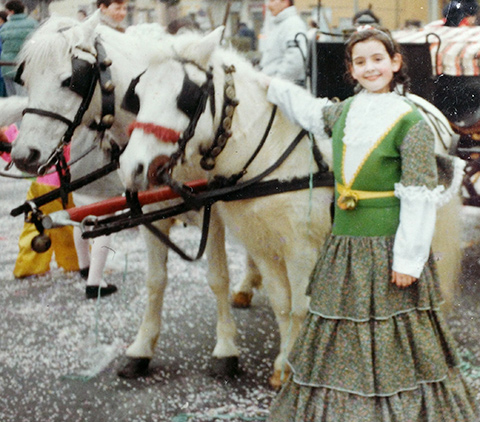 Sonia – 10 years old, another Carnival day
With my cousin's dress… definitely too big for me 🙂
Sonia – 10 anni, altro Carnevale
Con il vestito di mio cugina… decisamente troppo grande per me 🙂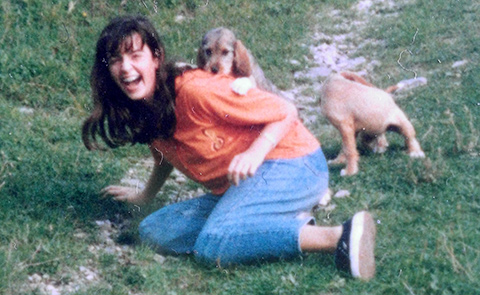 Sonia – 13 years at my granny's courtyard
No style at all, but the puppies and my happiness make of this photo one of my favs!
Sonia – 13 anni nel cortile della nonna
Decisamente non avevo uno stile, ma i cuccioli e la mia felicità rendono la foto uno spettacolo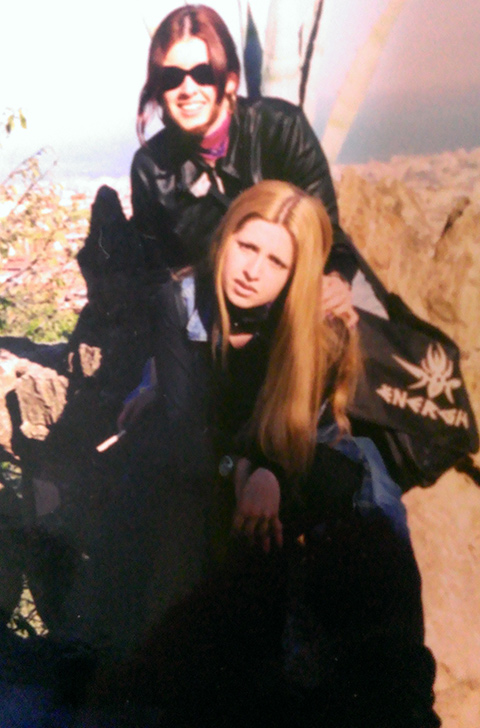 Sonia – 15 years with my bestie during our field trip in Barcelona
Someone please explain why I was so in love with the dj bag… ahh, teenage years
Sonia – 15 anni con la mia migliora amica Romina durante la  gita di classe a Barcellona
Qualcuno mi deve spiegare come facevo ad essere innamorata delle borse da DJ, ne avevo una decina… ahh adolescenza
Sonia – 17 years, in my bedroom
Not too bad… but a red eyeliner?!?!
Sonia – 17 anni, nella mia camera da letto
Non male … ma un eyeliner rosso?!?!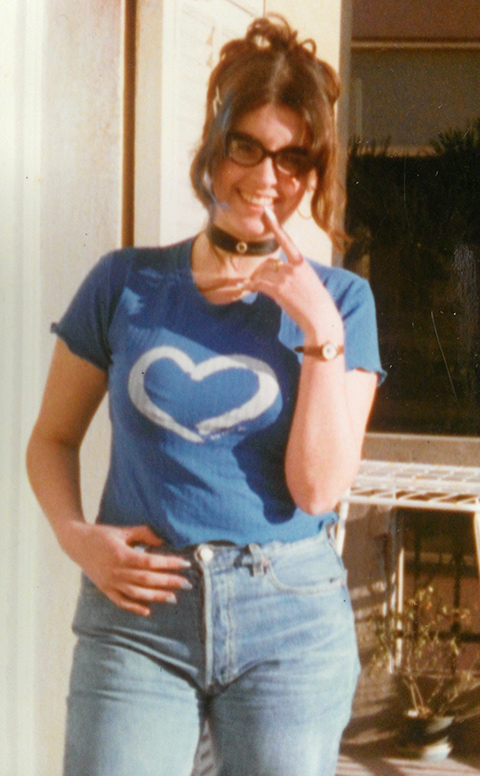 Sonia – 18 years
Cool eyeglasses, strange hair and an Onyx tee (very popular in the nineties)
Sonia – 18 anni
Occhiali da gatto, acconciatura improbabile e la maglietta della Onyx (che era onnipresente in quel periodo)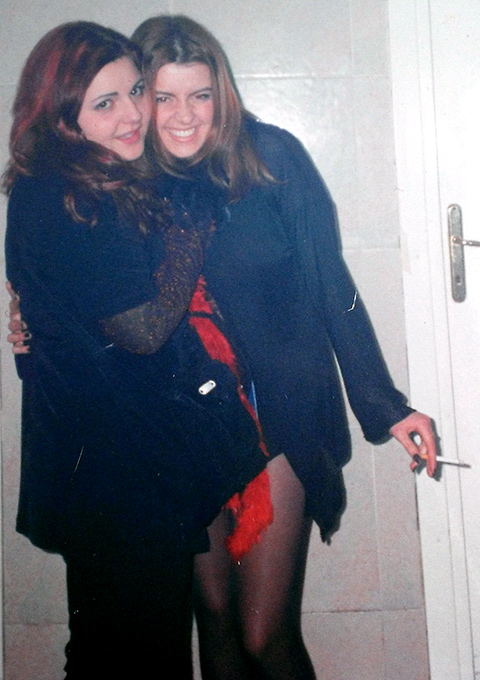 Sonia – 20 years with Debbie in a club
Red boa, a not so cool cigarette and, I swear, I was wearing a skirt
Sonia – 20 anni con Debbie in discoteca
Boa rosso, una – per niente cool – sigaretta e, giuro, indossavo una gonna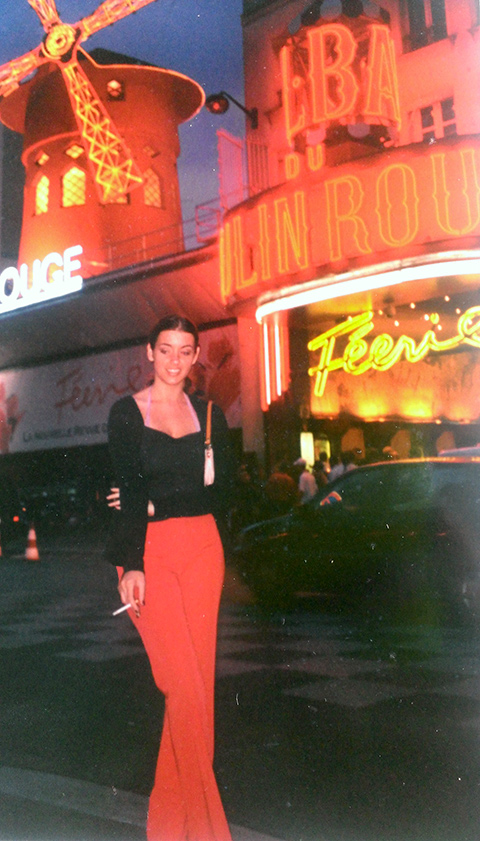 Sonia – 22 years in Paris
Red trousers to pay homage to Moulin Rouge  (note: I've quit smoking a few years ago and I'm still proud of that)
Sonia – 22 anni a Parigi
Pantaloni rossi per rendere omaggio al Moulin Rouge (nota: ho smesso di fumare qualche anno fa… e ne sono ancora fiera)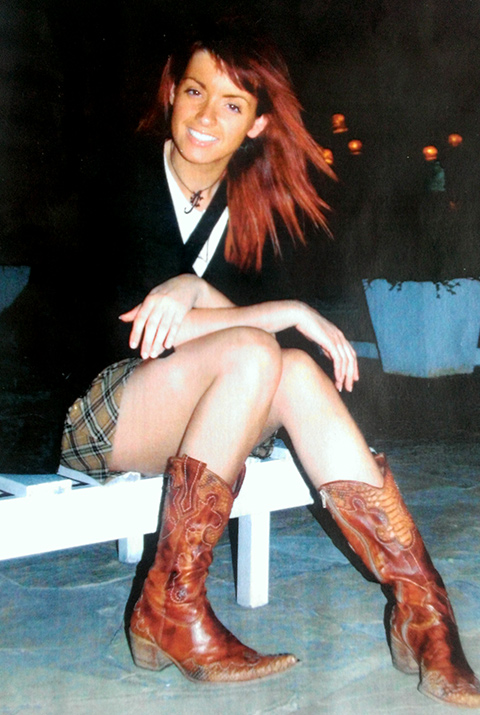 Sonia – 25 years in Kenya
Camperos on the beach?! Yes 😀
Sonia – 25 anni in Kenya
Camperos in spiaggia?! Sì:-D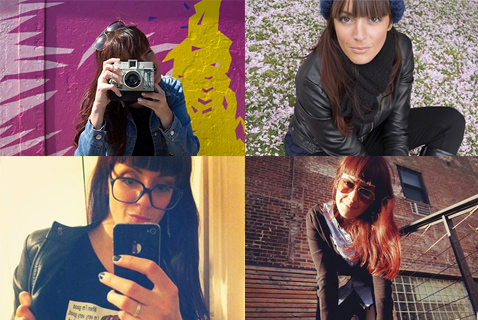 That's me, now!
——————
I had lots of fun while writing this post, and what I have learned is that my mummy, when choosing my clothes, had a strong passion for the color red… but don't they say: "Like mother like daughter"? Check a photo of my favourite coat below! 🙂
Mi sono divertita molto nello scrivere questo post e quello che ho imparato è che mia mamma aveva una chiara passione per il rosso… ma com'è quella frase "Tale madre tale figlia"? Guardate un po' la foto qui sotto con il mio cappotto preferito! 😉