English Version below
La Soho Food Feast sta tornando, questo weekend 8 e 9 giugno presso il St. Anne's Garden in Wardour Street.
Lo scopo per cui è nata la Soho Food Feast è quello di supportare la Soho Parish School, una piccola scuola elementare nel cuore di Soho che promuove da sempre pasti sani per i suoi alunni.
Conosco personalmente la scuola e trovo che quello che hanno creato per raccogliere fondi e portare avanti il loro programma di educazione all'alimentazione, non solo destinato agli alunni ma anche agli stessi genitori, sia fenomenale. Alla festa troverete alcuni tra i migliori chef e locali di Soho, tra i miei preferiti Polpo, Bone Daddies, Cinnamon Soho, Gelupo, DSTRKT e molti altri.
Tante le attività previste – oltre a mangiare certo 🙂 – food tasting, cake competition, giveaways, scambio di libri di cucina e attività per bambini tra cui la gara di sculture con le verdure, il tradizionale face painting e la decorazione dei grembiuli, tanto per citarne alcuni.
Se pensate di visitare la Soho Food Feast, ricordatevi che i biglietti sono in vendita solo online qui sohofoodfeast.eventbrite.com.
English Version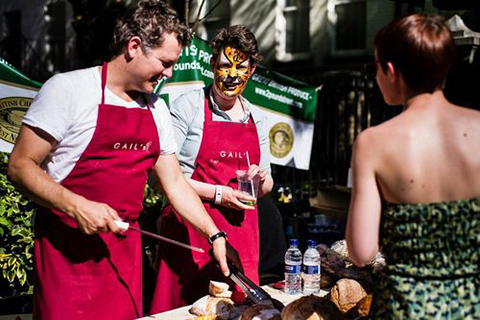 (photo by Soho Food Feast http://sohofoodfeast.tumblr.com)
The Soho Food Feast is coming back, Saturday 8th and Sunday 9th June 2013 at the St. Anne's Garden in Wardour Street.
The aim for the Soho Food Feast is raising money to support Soho Parish School, a small primary school in the heart of Soho that strongly promotes healthy eating for every child and family.
The school has been making its own healthy and delicious lunches for pupils since 2007 and needs support to keep this programme going.
Some of the most exciting London chefs and Soho restaurants will attend the feast to support the cause, to give you some names Polpo, Bone Daddies, Cinnamon Soho, Gelupo, DSTRKT and many others.
Programme:
Food Demonstrations and Tastings
Cake Competition open to all with Paul A Young and Good Housekeeping as judges
Children's Activities including vegetable sculpture competition, Apron painting, face painting and food criticsSaturday:
1pm – 5pm  Apron Painting
2-4pm We are All Food Critics
1-5pm Face PaintingSunday:
1-5pm Fruit & Veg Sculptures
Raffle with fantastic prizes including restaurant meals, night in a hotel, theatre tickets and much more
Cookbook Swap-shop
Music brought to you by Stuart Baker (Sounds of The Universe) and Martin Morales (TigerMILK)
Tickets are only available online sohofoodfeast.eventbrite.com