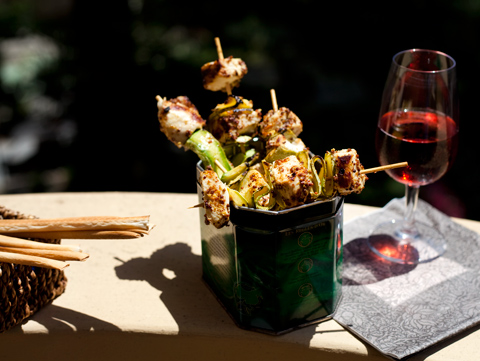 In French, whole-grain mustard is called moutarde à l'ancienne (old fashioned mustard). Hence, the name of this wonderful summer dish, great for casual dinner parties on the patio with friends.
Ingredients for 20 skewers
Serves 6

1½ lbs. skinless chicken breast
2-3 medium-sized zucchini
juice of 1 lemon
3 tbsp. whole grained mustard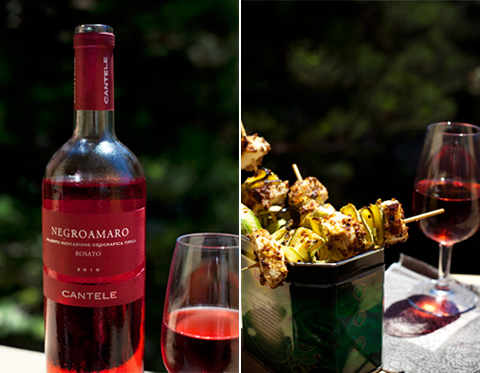 Cube the chicken breast into roughly ½-inch pieces and reserve. Thinly slice the zucchini lengthwise. Alternate the cubed chicken and zucchini on the skewers by first adding a piece of chicken and then gently folding the zucchini slices like an accordion before skewering. Repeat until you obtain roughly 20 skewers.
Prepare the sauce by whisking the lemon juice and mustard until emulsified. Using a brush, coat the skewers with the sauce, transfer to a glass baking dish (or similar) large enough to accommodate the skewers, drizzle with the remaining sauce, and transfer to the refrigerator for 1 hour to marinate.
Cook the skewers over a hot indoor grill (or ideally on an outdoor charcoal- or wood-fired grill), turning often, for about 10 minutes or until the chicken has browned and cooked through.
Pair with Cantele Rosato di Negroamaro.
Thanks to Dobianchi and Cantele Wine for translating the post.