Articoli con tag
wino
5

English recipe below.
Vi ricordate di Hachapuri e Trioni, la ricetta della "focaccia" georgiana e il vino bianco che l'accompagnava? Oggi una nuova ricetta con Saperavi, un rosso dell'azienda Badagoni che proviene dalla zona vitivinicola Kakheti. Sapevate che in questa fertile regione al confine con l'Azerbaijan, definita da Dumas: "una provincia di giardini", si produce il vino migliore della Georgia?
Ecco la scheda del vino:
colore: rosso rubino
profumo: fruttato con sentori di more e tonalità legnose
palato: è rotondo, pieno e grasso
temperatura di servizio: 18°C.
grado alcolico: 13 % vol.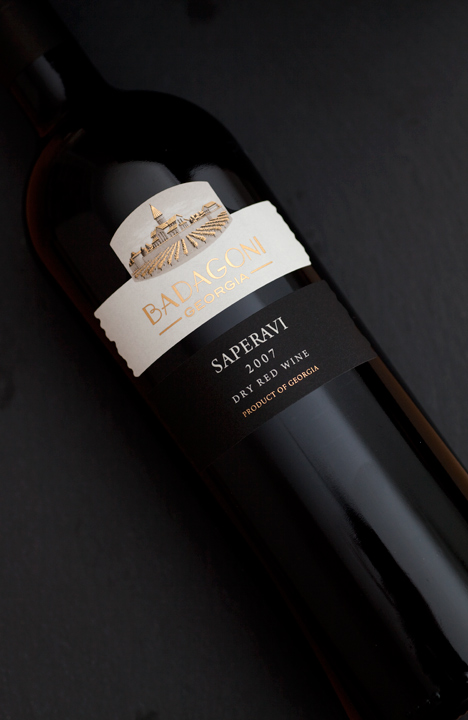 La remoulade di sedano rapa e pera per me è stata una scoperta, soprattutto perchè era la prima volta che provavo il sedano rapa e credo che "solitario" non sarei riuscita a mangiarlo. Così invece il sapore del sedano era ammorbidito dalla pera e dalla salsa che ho trovato squisita!
Ingredienti
75 ml di yogurt bianco bio
1 tablespoon di senape di grano intero
1 tablespoon di succo di limone
sale e pepe nero
sedano rapa, sbucciato e affettato sottilmente
1 pera, tagliata a fette sottili
pangrattato (ho usato un mix delizioso già pronto che ho trovato al supermercato e composto da pane, sale, pepe, paprika e curcuma. Nulla ovviamente vi vieta di farvelo da soli con altre spezie, io proverò sicuramente a rifarlo con altri "gusti" :-))
foglie di salvia
1 spicchio d'aglio schiacciato
2 braciole di maiale
farina
1 uovo
olio di oliva, burro e le foglie di salvia per la decorazione
Realizzazione
Preriscaldate il forno a 180 °. Mettete la senape, lo yogurt, il succo di limone, sale e pepe in una ciotola e mescolare bene. Aggiungere il sedano rapa e la pera e mescolate delicatamente. Mettere da parte.
Mettete il pangrattato, la salvia e l'aglio in una ciotola e mescolare insieme. Appiattire la carne di maiale a 5 mm di spessore. Passarla nella farina, nell'uovo e infine nel pangrattato. Scaldare l'olio e il burro in una padella antiaderente pere friggere a fuoco medio.
Aggiungere in padella le foglie di salvia per la decorazione e cuocere per 30-60 secondi. Togliere la salvia e mettete da parte.
Aggiungere la carne di maiale nella padella e cuocere per 2-3 minuti per lato o fino a doratura. Trasferire in una teglia da forno e mettere in forno per altri 6-8 minuti o fino a quando è cotto. Decorate il maiale con le foglie di salvia e servire con la remoulade di sedano rapa.
Ricetta ispirata da Donna Hay magazine.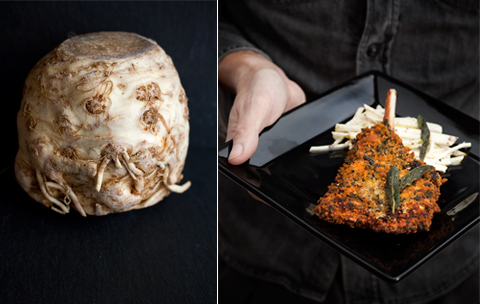 Sage-crumbles pork with celeriac and pear remoulade
Ingredients
1/2 pot of white organic yogurt (75 ml)
1 tablespoon whole grain mustard
1 tablespoon lemon juice
sea salt and cracked black pepper
celeriac, peeled and thinly sliced
1 pear, thinly sliced
crispy crumbs (from Bart)
sage leaves
1 clove garlic, crushed
2 pork cutlets
plain flour
1 egg
olive oil, butter e sage leaves for decoration
Preheat oven to 180°. Place the yogurt, mustard, lemon juice, salt and pepper in a bowl and mix well to combine. Add the celeriac and pear and toss gently to coat. Set aside.
Place the breadcrumb, sage and garlic in a bowl and mix to combine. Flatten the pork to 5 mm-thick. Dust in flour, dip into the egg and press into the breadcrumb mixture. Heat the oil and butter in a large non-stick frying pan over medium heat. Add the sage leaves for decoration and cook for 30-60 seconds or until crisps. Remove sage and set aside.
Add the pork to the pan and cook for 2-3 minutes each side or until golden. Transfer to a baking tray and place in the oven for a further 6-8 minutes or until cooked trough. Top the pork with the sage leaves and serve with the celeriac remoulade.
Recipe inspired by Donna Hay magazine.