Oriental
0
English Version below
Finalmente mi sono decisa a ricopiare gli appunti presi al mio corso di cucina thailandese a Bangkok. L'ultimo giorno passato in Thailandia lo abbiamo speso per conoscere meglio e portare a casa con noi un po' di conoscenza di una cucina varia e fantastica, che spero di perfezionare con il passare del tempo.
Credo che a parte gli ingredienti, alcuni di questi piuttosto impegnativi da reperire, il vero segreto sia nel conoscere e saper dosare spezie e salsine varie o almeno questo è quello che ho imparato!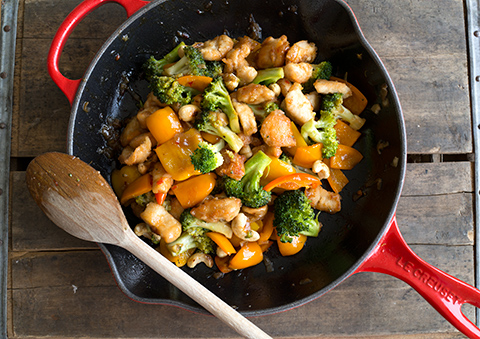 Al corso abbiamo realizzato tre differenti piatti – prometto che ve li racconterò tutti – un manzo grigliato piuttosto speziato, il Pad Thai e questo pollo stir-fry con anacardi conosciuto anche come Gai Pad Met Ma-Maung.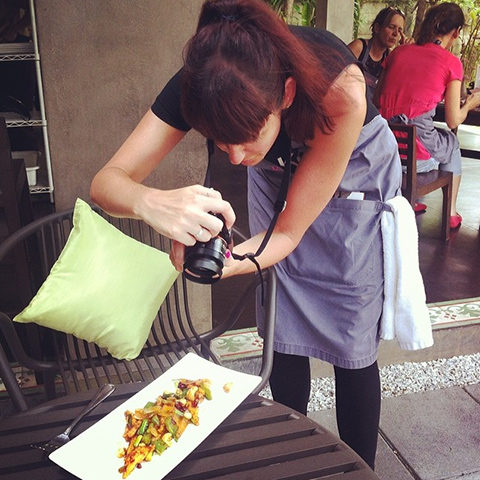 Il piatto che vedete qui sopra è l'originale che contiene al posto dei broccoli i cipollotti, è delizioso in entrambe le versioni.

Ingredienti per 1 porzione
50 grammi di filetto di pollo – tagliato in piccoli pezzi
2 cucchiai di farina
2 cucchiai di anacardi arrostiti
2 cucchiai peperoncino, fritto e tagliato in sezioni di un cm
20 grammi di cipolla affettata in piccoli pezzi
metà broccolo passato al microonde per 3-4 minuti
3 cucchiai di brodo di verdure o pollo
1 cucchiai di olio vegetale per Stir-fry
2 cucchiai di Thai chili sauce
Realizzazione
Infarinare i pezzi di pollo e  friggerli a fuoco medio fino a quando diventano dorati. Rimuoverli dalla padella e tenerli da parte.
A fuoco medio-alto cuoci nell'olio vegetale la cipolla e aggiungi successivamente il brodo.Aggiungi il condimento: la Thai chili sauce, la Oyster sauce e mescola il tutto.Infine, aggiungere il pollo, il peperoncino, gli anacardi, i broccoli e mescolare per combinare bene.Togliere dal fuoco e servire.
Post in collaborazione con
Le Creuset.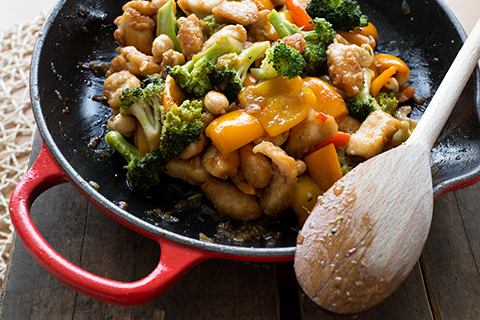 Finally I have the time – thank you Bank Holiday weekend – to sit down and copy the notes from the cookery course we attended on our last day in Bangkok.
At the course we prepared 3 Thai recipes: the spicy grilled beef salad, the Pad Thai and this  Stir-fried Chicken with Cashew nuts, also known as Gai Pad Met Ma-Muang.
The dish you can see in the first photo is the original version, for this post I used broccoli instead on spring onions. It's delicious in both ways!

Ingredients per 1 serve
50 grams chicken fillet – cut into small pieces
2 tablespoons plain flour
2 tablespoons cashew nuts – roasted
2 baby peppers
20 grams onion – cut into bite size
1/2 broccoli
3 tablespoons vegetable/chicken stock
1 tablespoons vegetable oil for stir-fry
2 teaspoon Thai chili sauce
1 tablespoon Oyster sauce
vegetable oil
Method

Coat chicken pieces with plain flour (shake out the exceeding flour) then fry on medium heat until cooked and slightly brown. Remove from the skillet and set aside.
Over medium-high heat stir fry  onion with vegetable oil, follow by stock.
Then add seasoning: Thai chilli sauce, Oyster sauce and mix them well.
Last, add fried chicken, cashew nuts, broccolis and stir to combine well.
Remove from the heat and serve.