Japan
0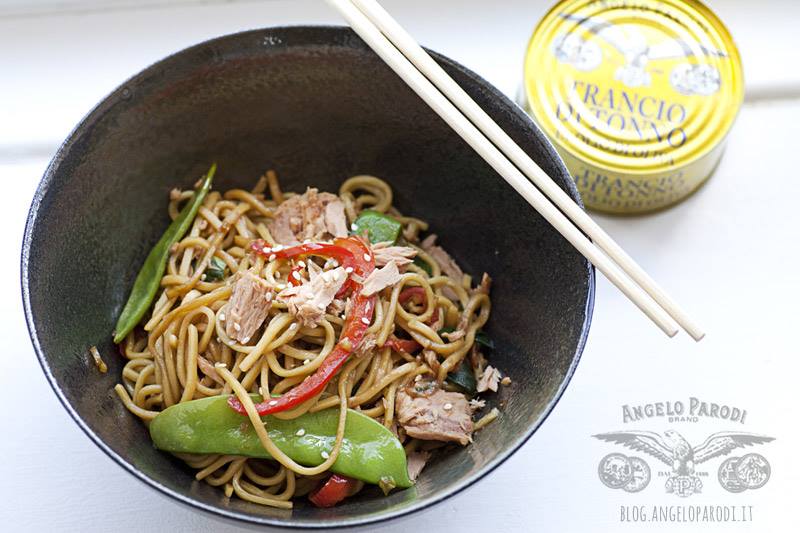 Ed eccoci tornati all'appuntamento con la Food Blogger del Mese, in collaborazione con Angelo Parodi.
Dopo un anno, eccoci con le nuove proposte influenzate dagli ultimi viaggi fatti qui al Paese e che porteranno un tocco di "esoticità" alle ricette… speriamo vi piacciono!
Partiamo con la prima i Noodles stir-fry con tonno, cosa ne pensate?
Ci sentiamo presto con la nuova ricetta!
1
Oggi voglio condividere maggiormente la mia passione!
Come alcuni di voi sanno io non sono una scrittrice o un'autrice di libri di ricette ma più che altro una fotografa, con una passione smodata per il food styling e per il cibo in generale (ma chi non ce l'ha :-))
Qui sotto alcuni scatti realizzati nel 2009 in un tour giapponese tra Tokyo, Kioto e dintorni, Miyajima e Arashiyama, tra amici Otaku e Onigiri in metropolitana, tra i cervi di Nara e le gothic lolita…insomma alcune foto veramente in ordine sparso

Vi ricordate il film Kill Bill? Sì?! Bene!Ricordate quando la sposa combatte contro gli 88 "pazzi"? Ecco il locale da cui Quentin ha preso ispirazione, che, vi giuro, merita un giro solo per il saluto caloroso che vi faranno all'ingresso

Direttamente dal loro sito:
"Gonpachi takes the best of traditional Japanese cuisine to the next level, serving soba noodles and "kushi"-style skewered delicacies in a traditional Japanese setting orchestrated to both relax and inspire. Impressive yet restrained, Gonpachi is an oasis of calm in Japan's urban chaos."
Gonpachi si trova a Roppongi , quartiere di night molto famoso e movimentato la sera

. In molti consigliano il club Gas Panic.