Greek
14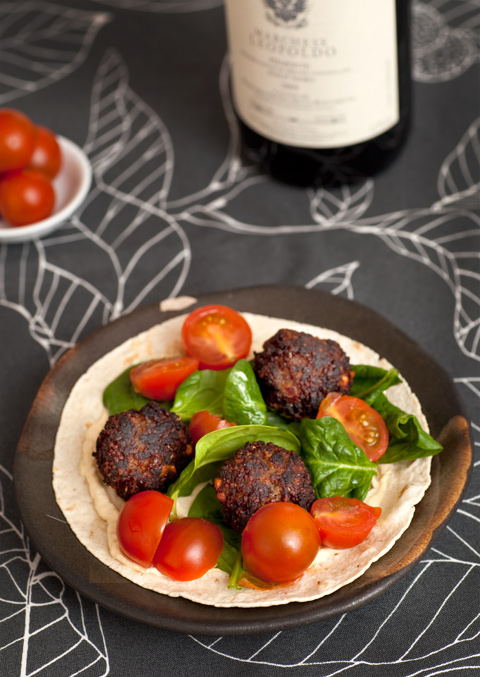 English recipe below
Qualche giorno fa riflettevo su come il vivere a Londra, stia modificando pian piano la nostra alimentazione quotidiana introducendo nuovi sapori dal mondo. Giapponese, thai, cinese, arabo, spezie mai usate prima. Probabilmente non è così strano, qui trovi tutte le cucine del mondo semplicemente uscendo di casa, ma rifletterci su, rendersi conto che su 7 cene 3 o 4 sono ricette non propriamente italiane fa un certo effetto.

E così il blog, guardando le ricette dell'ultimo mese solo tre sono propriamente italiane, ma va bene così, in fondo è una sorta di diario della mia vita no?!

Quindi oggi si parla di una piadina di ispirazione greca abbinata però ad un vino italianissimo! Abbinamento che come sempre potete trovare dal nostro oste preferito, Fernando, un Pinot Nero Marchese Leopoldo 2009 della cantina Marchesi Incisa della Rocchetta. Un vino color rosso rubino e dal profumo speziato che ben si abbina con queste polpettine semplici e gustose.
Per il vino quindi fate un salto da Fernando e per la ricetta leggete sotto.

Ingredienti:
65g cous cous
160ml di brodo di pollo
300g di manzo macinato (volendo potete sostituire con carne d'agnello)
1 cucchiaio di miele
1 cucchiaino di scorza di limone finemente grattugiata
1 cucchiaino di rosmarino tritato fine
80 g di feta, sbriciolata
Per servire:
pane da piadina, hummus, baby foglie di spinaci, pomodorini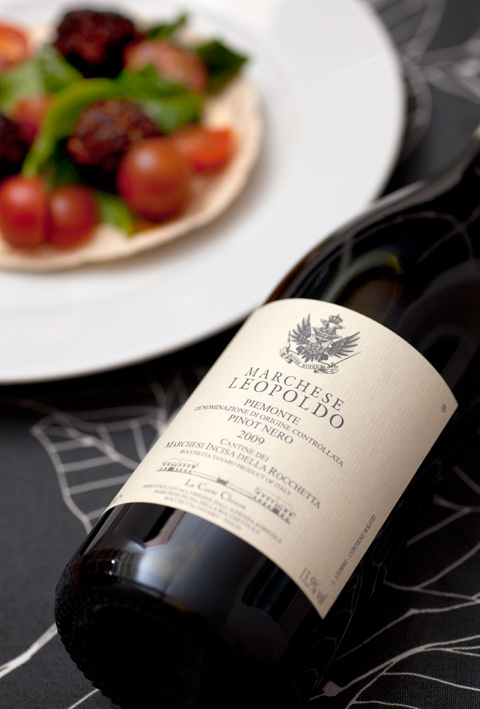 Realizzazione
Metti il cous cous in una ciotola e versaci sopra il brodo di pollo. Copri e lascia riposare per circa 15 minuti o fino a quando il brodo è completamente assorbito. Unisci il cous cous alla carne tritata, al miele, il limone e al rosmarino e condisci il tutto con sale e pepe nero appena macinato.
Aggiungi la feta. Dividi l'impasto in 12 piccole polpette.
Scalda una padella antiaderente sul fuoco medio e cuoci le polpette.
Spalma la piadina con l'hummus, aggiungi gli spinaci e i pomodorini, infine le polpette e arrotola la piadina. Buon appetito!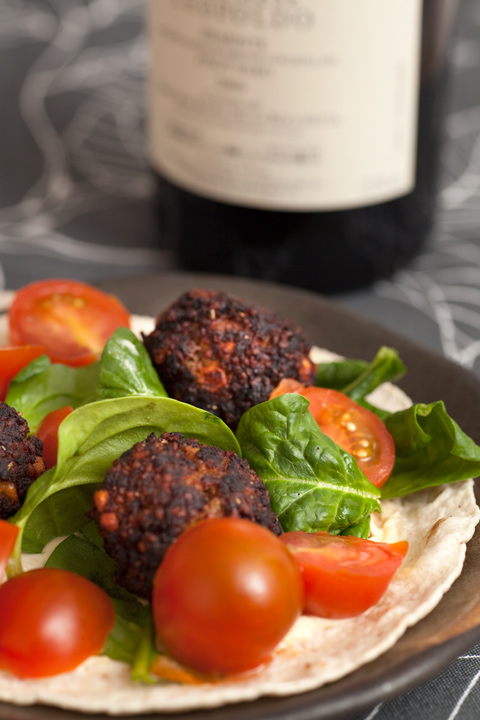 Greek-inspired beef meat balls
Ingredients:
65g cous cous
160ml hot chicken stock
300g beef mince (or lamb mince)
1 tbsp honey
1 tsp finely grated lemon zest
1 tsp finally chopped rosemary
80g feta, crumbled
To serve:
flat bread, hummus, baby spinach leaves, cherry tomatoes
Place the cous cous in a bowl and pour over the chicken stock. Cover and leave to stand for about 15 mins or until at the stock is absorved. Combine the cous cous, beef mince, honey, lemon and rosemary and season with salt and freshly ground black pepper. Stir in the feta. Shape the misture into 12 small patties.
Heat a non-sticking frying pan over a medium heat and cook the patties.
Spread the flat breads with hummus. Top with spinach and tomatoes, then the patties.
Recipe inspired by Donna Hay.