Birra Moretti's Pizza in the Piazza e la pizza di Caldesi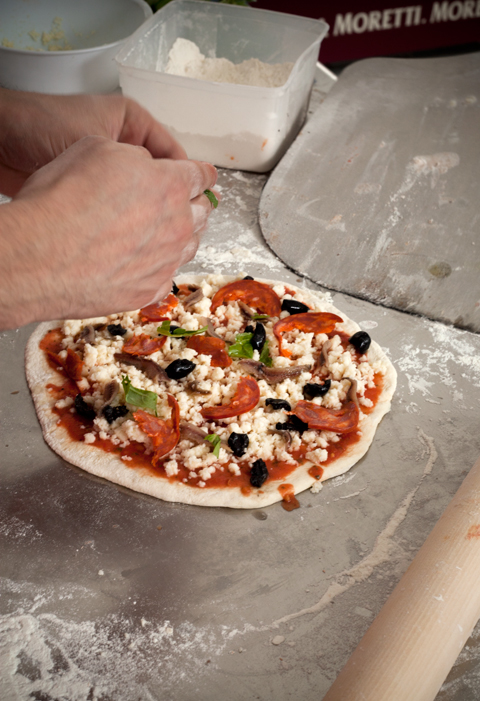 English version below.
Mercoledì scorso sono stata ad un carinissimo evento organizzato da Birra Moretti in 3 differenti piazze di Londra, io sono stata in Exchange Square (e dopo ho colto l'opportunità di visitare un po' la City senza meta).
Lo scopo dell'esperienza era fare festa (e per festa intendo anche cantare insieme ai tenori "O sole mio", che ci volete fare, meglio la canzone stereotipo che l'ironia sul bunga bunga… ) e preparare la propria pizza sotto la guida dello chef Giancarlo Caldesi. Dopo la cottura si poteva assaporare la creazione, seduti al tavolo con il proprio gruppo di lavoro (ciao Gian e Diego from Italia :-)) e una birra.

Esperienza assolutamente positiva: l'evento era organizzato benissimo, l'atmosfera di una vera festa, ho conosciuto persone simpatiche, la pizza era VERAMENTE buona (I love pizza) e c'era il sole… oserei direi una giornata perfetta!
Vi lascio un po' di fotine e la ricetta per la pizza di Caldesi, se qualcuno vuole provare a rifarla.
Ricetta (fare 4 pizze di dimensioni standard)

10 g di lievito fresco o 5 g di lievito secco

220 ml Birra Moretti

125 ml di acqua tiepida

500 g di farina

2 cucchiaini di sale

un po' di semola per spolverare sotto la pizza

400 g di pomodori in scatola

1 cucchiaino colmo di origano essiccato

1 cucchiaino di sale

2 cucchiai di olio d'oliva

2x 125 g di mozzarella, scolati e affettata

una manciata di foglie di basilico fresco
Realizzazione
l'impasto
Aggiungere il lievito alla birra e l'acqua, quindi mixa con la farina ed il sale. Impastare per 10 minuti fino a quando l'impasto è uniforme e liscio. Formare una palla, metterla in una ciotola e coprirla con la pellicola.
Lascia lievitare in un posto tiepido fino a quando le dimensioni si raddoppiano.
la salsa
Mettere i pomodori in una ciotola e aggiungere sale, origano e olio e mescolare bene.
preparazione
Preriscaldare il forno alla sua temperatura più calda. Stendere la pasta su una superficie infarinata. Spargere la semola sulla teglia della pizza e mettere la pasta nella teglia. Con un cucchiaio stendere la salsa di pomodoro. Aggiungere un quarto della mozzarella e degli altri condimenti. Mettere la pizza nel forno e ripetere con le altre pizze.
cottura
Cuocere per 7-10 minuti. La base dovrebbe essere dorata e il formaggio dovrebbe fare le bolle. Guarnire con basilico e servire. Ripetere l'operazione con le altre pizze.
ENGLISH VERSION
Definitely a positive experience: the event was well organized, the atmosphere of a real party, I met nice people, the pizza was really  good (Io amo la pizza) and it was sunny … I would say a perfect day!
I leave you with some photos and the recipe of Caldesi's pizza, should you like to try and bake it yourself.
Have a lovely day.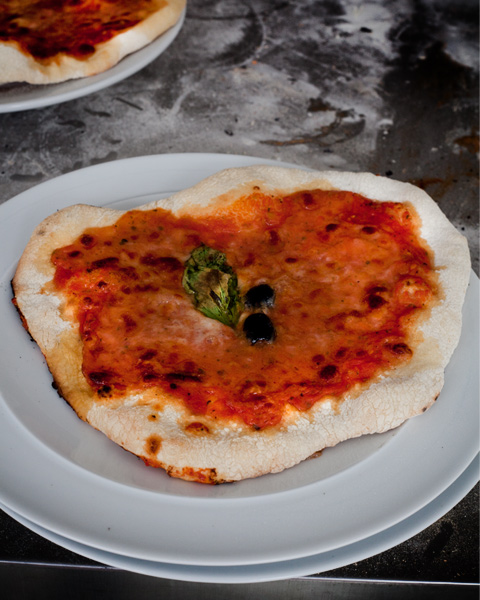 Recipe (make 4 standard size pizzas)

10 g fresh yeast or 5 g dried yeast

220 ml Birra Moretti

125 ml tiepid water

500 g strong bread flour

2 teaspoons salt

a little semolina for dusting under the pizza

400 g Italian tinned plum tomatoes

1 heaped teaspoon dried oregano

1 teaspoon salt

2 tablespoon olive oil

2x 125 g balls of Mozzarella, drained and sliced

a handful of fresh basil leaves
Method
The Dough
Add the yeast to the beer and water; then mix with the flour and salt.
Knead for 10 minutes until smooth. Shape into a ball, put in an oiled bowl and cover with clining film. Leave in a warm place to rise until doubled in size again.
The Sauce
Put the tomatoes in a bowl and squash by hand. Add the oregano, salt and oil, and stir well.
To prepare
Put 2 baking trays, spaced apart, upside-down in the oven. Have a thin wooden chopping board (for transferring the pizza to the oven) ready. Preheat the oven to its hottest setting. Roll out the dough on a floured surface. Scatter some semolina onto the board, place on the firts pizza and spread over a tablespoon of tomato sauce. Add a quarter of the mozzarella and the other toppings. slide the pizza into the oven and quickly pull the board away so it glides into the upturned tray. Repeat with the second pizza.
To cook
Bake for 7-10 minutes. The base should be golden undermeath and the cheese bubbling. -cornish with basil and serve. Repeat for the second pizza batch.

Share this article